Everything You Need To Hear From Triple H's 50th Birthday Bash!
Vince McMahon was in attendance - and he "looked incredible".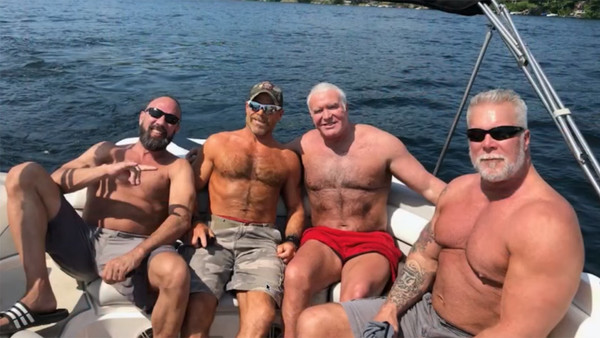 Triple H turned the big 5-0 last week, making wrestling fans of a particular vintage feel very bloody old in the process. Though famously teetotal - coincidentally, making him an ideal designated driver around 1995 - The Game isn't against bashing himself, and held an opulent New Hampshire shindig to celebrate the occasion this past weekend.
Kliq buddy Sean 'X-Pac' Waltman was in attendance, and he shared all the juicy details - that he could remember - on the latest episode of his X-Pac 1 2 360 podcast.
Waltman began by saying Hunter flew all his mates out to the most beautiful town he had ever seen, putting them up in a 40 room lakeside hotel. Around 50 people were in attendance, which he oddly described as "intimate".
Everybody shared an evening dinner, and the next morning it was time for fun and frolics, as the guests hit the lake to jet ski, ride boats, and even do some ceremonial axe throwing (Triple H thinks he is a Viking).
Of course, Hunter's father-in-law Vince McMahon was never going to miss a party. Waltman said that the WWE Chairman - who turns 74 this month - was still in phenomenal shape."He looked incredible," Waltman admitted.
On the night, all the revellers drove out to a barn, where they listened to a local band and ate a delectable meal including swordfish and prime ribs. Lucky Waltman got to share a table with Shawn Michaels, Ric Flair, Scott Hall and Kevin Nash. Imagine the carnage...
As nightfall descended, Stephanie McMahon marched the guests outside to watch a spectacular light show, including hundreds of drones recreating the DX logo. The best was yet to come however, as once back indoors, Triple H introduced John Fogerty of Creedence Clearwater Revival onto a stage quite sadly adorned with his own logo. Billy Gibbons of ZZ Top was also in attendance.
The "legendary, amazing evening" concluded with Waltman dancing with Linda McMahon. It's unknown whether Triple H had Peter Gabriel's Sledgehammer on the playlist, or just his own theme music on repeat.
You can listen to the full details of The Gamer's big birthday bash here.
Create Content and Get Paid
---