Ex-AEW Star "Felt Unheard", Wasn't "In Control" During Run
Former wrestler delivers less-than-favourable appraisal of their time in AEW.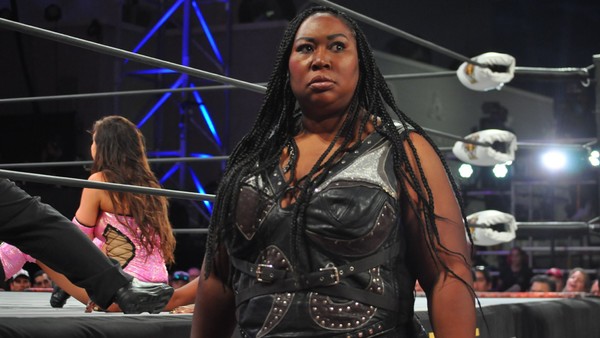 Awesome Kong has delivered a less-than-glowing appraisal of her time in All Elite Wrestling, doing so while speaking with Chris Van Vliet on his Insight show.
Kong, who left AEW in June 2021 and has since retired from wrestling, stating that while she didn't want to give the impression that she was bashing the company and its personnel, she didn't feel heard or in control during her time there. Despite her best attempts, she couldn't get involved in the decision-making process.
Said Kong (h/t Fightful):-
"I don't want to sound like I'm bashing the crew over there at AEW, especially since we were just up and running. We are all new executives and trying to think outside the box and really give it to y'all. Something new, something that hasn't been seen. We've seen it all. We were trying to give you something that you haven't seen. I felt unheard. I wasn't in control. All I could do was say, 'I have this idea of XYZ.' I couldn't get in the room where final decisions were made. Believe me, Kia [referring to her real name Kia Stevens] stalked that room. I would stay there after big meetings and pick up the water bottles and cups like, 'Huh, Y'all need...you need me to go? Okay' [Laughs]. I tried to get into that last meeting where decisions were made."
Unable to get involved in these processes, Kong stated that if she'd been able to, she'd have stood a better chance of stealing the show, using a theoretical match with Nyla Rose as an example:-
"Never had a chance to. 'That's just not going to happen, so I'm not going to push it.' When you see this [makes a box with her hands] is who they are comfortable with making decisions, that's not a read or a critique, that's just who was comfortable making decisions. What do you do? It's out of my control. If I had control, give me 15 minutes of Kia. Kia's 15 Minutes of Fame. 'Go out there and steal the show from them boys. You, you, you. Nyla (Rose), go steal the show from the boys.'"
Kong made her surprise AEW debut at the original Double Or Nothing pay-per-view. Introduced by Brandi Rhodes, she faced Kylie Rae, Britt Baker, and Rose in her first match, then teased a bout with Aja Kong (that didn't end up happening) during the following month's Fight For The Fallen show.
Rhodes and Kong later formed the poorly-received Nightmare Collective group with Mel and Luther. This was ditched amidst overwhelming negative reactions in February 2020, preceding Kong taking time away from AEW to film the next series of GLOW, on which she was a main cast member.
The IMPACT Wrestling Hall of Famer did not return to AEW after this. By the following June, it was confirmed Kong had left AEW after her contract's expiration. She retired during the NWA's EmPowerrr event two months later.