Ex-Star Thinks WWE Ended His John Cena Alliance Too Soon
This former WWE man reckons creative could've "milked" that John Cena story.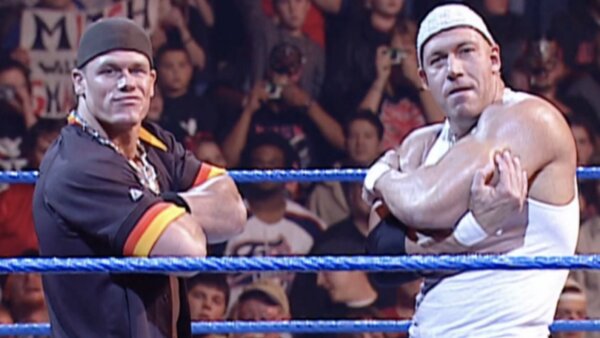 Ex-WWE man Bull Buchanan believes the company should've "milked" his onscreen alliance with John Cena "a little more" than they did.
Bull appeared alongside Cena as the comedic "B2" between November 2002-January 2003. According to Buchanan, the character wasn't supposed to be "comical" at all. That's quite the statement, because B2's cry of "Boo-yah!" following Cena's more serious rapping promos played out like a complete and utter p*ss take.
The gimmick, which was pronounced "B-Squared" by announcers on TV, ended far too quickly for Bull. He still thinks WWE's creative team should've kept the pairing alive on SmackDown and tried to make something of them as a tag-team.
Most fans and critics would agree that Cena never really needed a rapping accomplice by November '02. The rookie was already starting to catch fire with fans by delivering brutal disses to other stars, and it was clear he was headed for bigger things than the tag ranks.
Buchanan described being shoved down and beaten up by Cena in January '03 as a "writing on the wall moment" for his entire WWE career. The guy knew they didn't have much for him after that.