Ex-WWE Star Says "Hell Nah" To Final Match Offer
This former WWE wrestler wasn't interested in becoming the next Ric Flair.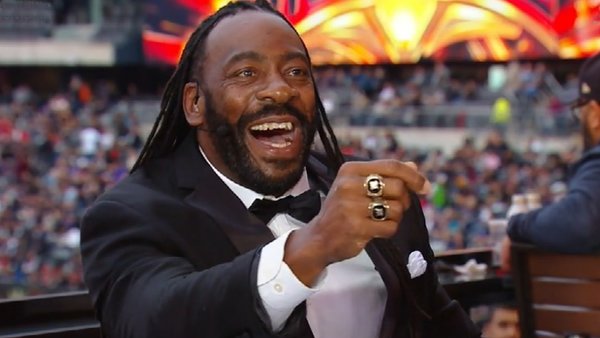 WWE Hall Of Famer Booker T has revealed that he's already turned down the chance to wrestle one last match at next year's Starrcast VI.
The multi-time World Champion told listeners on his podcast that event organisers contacted him about working one final bout alongside his brother Stevie Ray as iconic tag-team Harlem Heat. Booker's response? "Hell nah".
He's just not interested in definitively retiring from the ring right now.
However, Book did say that he wrestled a few weeks ago and "my knee was killing me". So, basically, he's not keen to nail down any more active wrestling dates until he's fully healed or catches the wrasslin' bug again. For now, Booker is happy podcasting and continuing to work as an ambassador for WWE.
It's interesting that Starrcast main man Conrad Thompson moved so quickly to book Harlem Heat. His celebratory event will be held in Texas next year, and he obviously wanted to follow up on Flair's "last match" with something special.
Booker didn't say yes though. In fact, he knocked Thompson's offer down flat and told fans, "Y'all can forget about seeing me do one last match!".
That's that then.