EXCLUSIVE: William Regal Brutally Buries Chris Jericho
William Regal holds nothing back on Chris Jericho ahead of AEW Double Or Nothing 2022!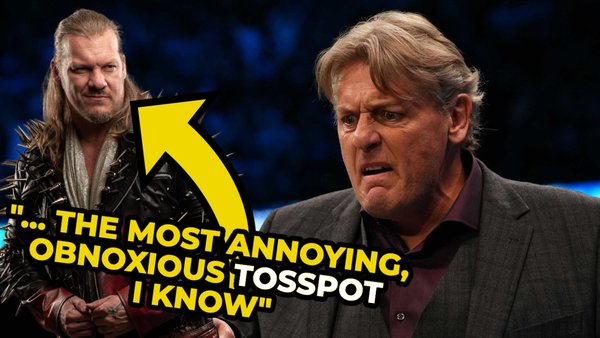 William Regal was typically scathing in his appraisal of current All Elite Wrestling rival Chris Jericho in a new interview with WhatCulture's Adam Wilbourn.
The wrestling legend was speaking ahead of Sunday's Double Or Nothing 2022 pay-per-view (29 May). There, his Blackpool Combat Club stablemates Bryan Danielson and Jon Moxley will team with Eddie Kingston, Santana, and Ortiz against the Jericho Appreciation Society.
Throwing more in-character fuel onto the flames of this already-heated rivalry, Regal went in hard on Jericho when asked how he was feeling ahead of the Anarchy in the Arena match. It didn't take long for him to get right to it:-
"Obviously excited, and I'm having a great time at the moment with my time in AEW. I'm looking forward to Sunday because any time I get to see Chris Jericho get his head punched in - and this is in reality, I've never liked him from the first day I met him - I hope somebody does him some severe damage. I wish it was me, but those days are over for me. He's just the most obnoxious, annoying tosspot I know."
Continuing, Regal said that the first AEW World Champion has always got on his nerves, even when other people have praised him:-
"I really mean that. I feel like I'm the little child in the emperor's new clothes when everybody's going 'oh, this fella's wonderful.' I'm looking up, just going 'no, just an absolute…' ugh, anyway. We'll get off that. He just winds me up, he's a proper, proper trout-slapper and it winds me up. I'm not joking about that, I really find him annoying."
This apparently goes all the way back to their shared time in the WCW locker room, with Regal recalling the first time he laid eyes on Jericho:-
"I'm gonna revel in that fact when anybody gets hold of him and starts punching his stupid face. From day one, I swear, I met him in 1997 and I walked into the show - it was at WCW - and I just went, 'he's a wrong'un' straight away… and I've never felt any different ever since."
Regal has been with AEW since March, having debuted following Moxley's match with Danielson at the Revolution 2022 pay-per-view. The trio soon formed the Blackpool Combat Club, which has been expanded to include up-and-comer Wheeler Yuta.
A recent episode of AEW Dynamite saw Regal and Jericho briefly get physical, as William laid his old foe out with a punch outside the ring. Perhaps there's more to come at Double Or Nothing?
Check out our full William Regal interview below!
AEW Double Or Nothing 2022 is available for international viewers to stream via FITE! Click here for ordering information.
Create Content and Get Paid
---