Fast & Furious 8: The Rock & Vin Diesel Feud Drags On At CinemaCon
So, is it just a work?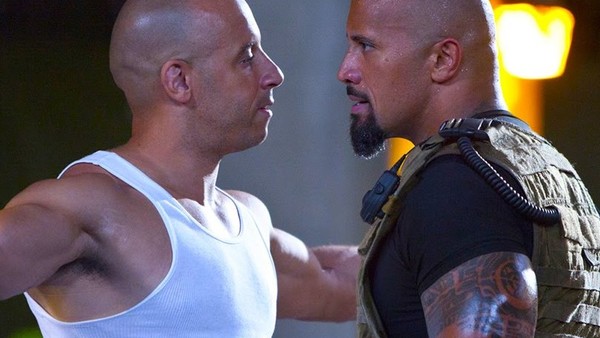 If you were a cynic, you might start thinking that The Rock's very public feud with Fate Of The Furious co-star Vin Diesel was being set up for a cross-promotional appearance at WrestleMania this weekend. After a simmering war was kicked off on Instagram when Johnson praised his female co-stars and called some of his "male co-stars... 'chicken s***' and 'candy a**es" and it seems the feud still rages on.
The film was screened at CinemaCon yesterday in Las Vegas, with the cast in appearance to help promote it. There was no sign of The Rock though, and The Hollywood Reporter are citing sources saying he and Diesel are purposefully being kept apart on the promotional tour. Nothing to do with Rocky shooting Ballers, though, right?
Oddly, Johnson was at the event earlier this week for Jumanji and Baywatch, but he was back working on his HBO show by Wednesday, leaving Diesel to host the screener for the attendees.
Apparently, the studio are looking for damage control, with two more instalments in the franchise planned (there will be more and spin-offs, don't worry), but it all feels a little suspicious - what with The Rock rumoured to be making an appearance at the Orlando showcase and WWE's track record with helping promote movies.
If Flo Rida is deemed a sensible addition to the event, why wouldn't they introduce The Rock and then have Diesel run in? If not at Mania then at the Raw after a night later? It all sounds so WWE it hurts.
At least everyone who saw the movie seems to agree that it's great.