First Challenger Revealed For Seth Rollins' WWE World Heavyweight Championship?
Could the Visionary's first World Heavyweight Title challenger be this powerhouse?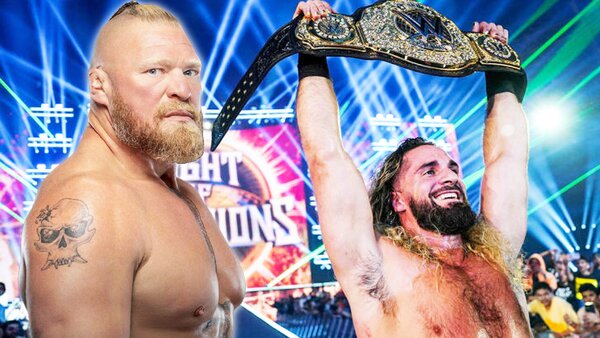 With Seth Rollins having yesterday defeated AJ Styles at WWE Night of Champions to become the new World Heavyweight Champion, Brock Lesnar may well be in the immediate future of the Visionary.
Speaking on the latest edition of Wrestling Observer Radio, Dave Meltzer noted how Lesnar is likely to be the first challenger to Rollins' new crown.
"I think it's gonna be Seth Rollins and Brock. That's why Brock probably wins [at Night of Champions]... so Brock gets the title shot, because Brock hasn't been able to challenge for the title since Roman."
On that same topic, the Observer founder later added:
"Brock's not gonna lose twice in a row, so they gave Cody an out for losing, and it's as good an out as you're gonna get. That way, Cody's not jumping right back into the championship picture after Seth. If Cody won, they'd have to go to Cody and Seth, and they don't wanna do that. Brock and Seth buys them time, and Brock's a great challenger for Seth if that's where they're going. I don't know if that's where they're going, but it makes all the sense in the world, because everybody thinks that Brock is, not 'unbeatable' unbeatable, but very, very difficult to beat. It would establish Seth as a very viable champion if he could get through Brock. Now that Brock has the one win [over Cody Rhodes], I guess he could lose to Seth."
Meltzer also noted how WWE may opt to have Rollins vs. Lesnar take place at Money in the Bank in London on 1 July, and then have the Beast Incarnate have a rubber match with Cody Rhodes at this year's SummerSlam.
Rollins and Lesnar clearly have quite the history, with the pair having clashed several times over the years - including Seth defeating Brock for the Universal Title at both WrestleMania 35 and SummerSlam 2019, whilst Lesnar squashed Seth to win that same prize at Extreme Rules 2019. Then there was WrestleMania 31, where the Architect cashed in his Money in the Bank briefcase to hijack the Brock Lesnar vs. Roman Reigns main event and become the new World Heavyweight Champion.
For those who missed Night of Champions, Lesnar was victorious over Cody Rhodes, with the American Nightmare passing out following a prolonged kimura lock. This was the pair's second meeting; Rhodes previously toppling the Beast Incarnate at WWE Backlash earlier this month.
As alluded to by Dave Meltzer, Brock has been unable to challenge for the Undisputed WWE Universal Title after losing to Roman Reigns at SummerSlam 2022. Now that the new World Heavyweight Championship has been introduced, though, that means Lesnar finds himself with a World Title that he's now allowed to go after.
Of course, all of this is merely speculation on Meltzer's part, but Brock Lesnar would certainly make for a logical first challenger to Seth Rollins' recently won prize - particularly if WWE is looking to hold off on Lesnar vs. Rhodes III for now.