First Look At Asuka's New WWE Women's Championship
WWE's Raw Women's Title is no more. Asuka got a brand new belt on SmackDown!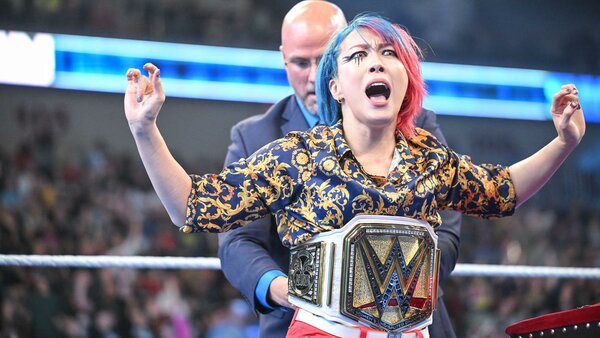 Say goodbye to the old Raw Women's Title design, because WWE presented reigning champ Asuka with a brand new belt on Friday's episode of SmackDown.
The new WWE Women's Championship design brings it in line with Roman Reigns' Undisputed Title look, which is interesting. That suggests the company will soon change up Rhea Ripley's belt - she's the SmackDown Women's Champ over on Raw (yep), but the blue-branded strap no longer has any purpose when the red one is out of circulation.
Expect a change there imminently then.
It didn't take long for WWE to move on from the Raw look. Asuka celebrated with her new title, but Charlotte Flair's grand return cut the party short. It's since been revealed that Flair will challenge Asuka for her gold on the go home edition of SmackDown right before Money In The Bank.
For reference, that episode of TV is also in London, England 24 hours before the pay-per-view. In fact, it takes place in the exact same arena as MITB.
WWE introduced the Raw Women's Title look back in 2016, but it's unclear whether or not Asuka's new belt follows the same lineage.