Former WWE Referee Tim White Dead At 68
The legendary WWE figure sadly passed away over the weekend.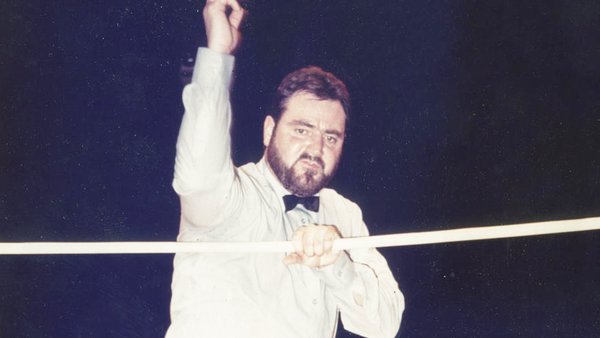 Former WWE referee Tim White sadly passed away over the weekend. He was 68 years of age.
Initially joining the then-World Wrestling Federation in 1985 as a part-time referee, one other significant part of White's role with the company was being the travel companion of Andre the Giant. During that time, Tim and Andre struck up a close friendship, and White appeared in plentiful documentaries on the Eighth Wonder of the World over the years - and would always have an entertaining story or two about Andre when making such appearances.
Once Andre passed away in 1993, that's when Tim White became a full-time referee for Vince McMahon's sports entertainment juggernaut. Amongst the major matches that he officiated, White was the man in the middle for Mankind and the Undertaker's famed Hell in a Cell bout at King of the Ring '98.
A shoulder injury suffered in the HIAC bout between Chris Jericho and Triple H at Judgment Day 2002 effectively brought an end to White's refereeing career, although he would return to oversee Jericho's WrestleMania XX contest against Christian. After reinjuring his shoulder while counting the winning pinfall in that match, Timmy once again stepped back out of the stripes.
White would remain with WWE until 2009, serving as a producer and assisting with talent appearances. Following his exit from the company, Tim would still help with certain such talent appearances and would also attend occasional shows, such as being backstage for WrestleMania 38 earlier this year.
Away from the wrestling business, the Rhode Island native ran his own bar, The Friendly Tap, which was used in several WWE skits over the years.
Following the tragic news of Tim's passing, plenty of the wrestling world's biggest names have taken to social media to pay their respects to a figure who was clearly very loved by very many. Of course, this comes only a matter of days after the similarly sad passing of fellow former WWE referee and agent Dave Hebner.
I lit up every time I saw this man! Tim White often was the man tasked with shepherding us at appearances and conventions the last several years. He was always extraordinarily kind and warm. I will miss you, my friend. My deepest condolences to his family and friends. pic.twitter.com/fZm0Fq1sRj

— Ettore "Big E" Ewen (@WWEBigE) June 19, 2022
Saddened to hear about both Dave Hebner and Tim White. Both incredible men I was privileged to spend time with in and out of the ring. My thoughts are with their families.

— Shawn Michaels (@ShawnMichaels) June 19, 2022
Can't believe we've lost both Dave Hebner and now the equally talented Tim White. Two outstanding humans who were committed to pro wrestling. ??

— Jim Ross (@JRsBBQ) June 19, 2022
Shocked and saddened. Timmy was one of the absolute best people I've known and had the pleasure of working with. Myself and the entire @WWE family will miss him dearly. https://t.co/TiH4mKvKWy

— Triple H (@TripleH) June 19, 2022
I'm very sorry to learn of Tim White's passing. He was the referee for so many of my big matches, and more importantly, was one of the nicest and most well-liked members of the @WWE family.

— Mick Foley (@RealMickFoley) June 20, 2022
I've never met a kinder soul in my life. I can't imagine anyone having a bad word to say about Timmy White. Rest In Peace my friend. #RIPTimWhite pic.twitter.com/lgZniO1U3V

— Sean Waltman (@TheRealXPac) June 19, 2022
The thoughts of all of us at WhatCulture Wrestling go out to the family and friends of Tim White at this time.