Former WWE Universal Champion Wants To Appear On The Masked Singer
This current WWE star has already lobbied to be a part of the hit show.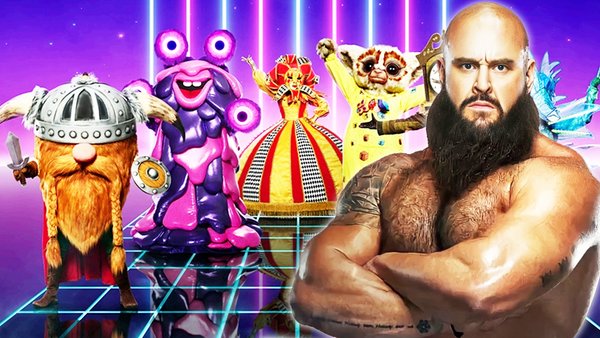 If WWE's Braun Strowman gets his way, he'll at some point have the opportunity to appear on The Masked Singer.
Speaking during a recent interview with SHAK Wrestling (via Wrestling Inc.), the Monster of All Monsters revealed that not only is he a fan of The Masked Singer, but he's got quite the voice and has already lobbied to be a part of the hit FOX show.
"A little-known secret, I'm not that bad of a singer."
On The Masked Singer specifically, Strowman added:
"It's definitely something that I've talked about, and now being back on FOX [as part of] Friday night SmackDown, I mean, let's go. It's hand in hand."
Continuing on, the one-time WWE Universal Champion noted how he is also planning to record some songs with former Cirque de Soleil performer Jared Barnett.
"We are going to sit down with a couple of other guys and record a few songs, some that I've wanted to do. I've talked about doing [that] for a long time, and I'm sick of manifesting these dreams in my head and sometimes pushing them off the side. It's starting to check these bucket list things off. I'm not getting any younger, so you know what? Let's take a shot in the dark. You never know."
In terms of The Masked Singer, that show began life back in 2019. The basic premise is that a bunch of disguised celebrities sing each week, with an annoyingly over-excited panel having to correctly identify who is under each of the elaborate outfits. If Strowman does somehow end up on the series, he won't be the first wrestler to do so - with AEW's Chris Jericho recently appearing on The Masked Singer as the Bride, aka a pink dragon in a wedding dress.
One of the many WWE talents released as part of pandemic era "budget cuts", the Monster Among Men departed the company on 2 June 2021. After becoming involved in EC3's Control Your Narrative, Braun returned to WWE this past September and initially tangled with Alpha Academy before battling Omos at Crown Jewel in November. At present, Strowman seems on a collision course with Intercontinental Champion GUNTNER, with that bout seemingly a possibility for next month's Royal Rumble Premium Live Event.
As for those wondering about Chris Jericho on The Masked Singer, be sure to check out the below clip.