Full Content Listing For Upcoming Owen Hart DVD And Blu-ray
Which matches from the great career of "The King Of Harts" were selected for the three disc set?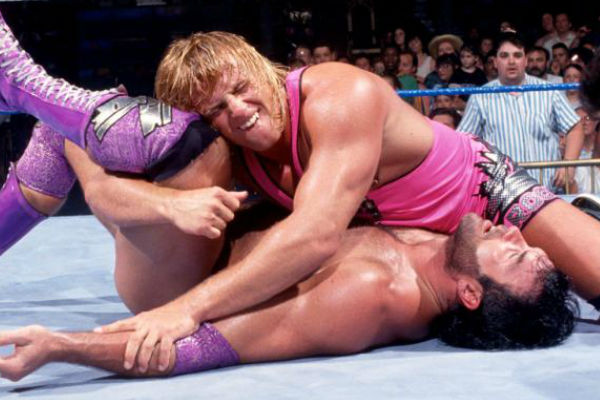 The full content listing for the upcoming WWE DVD and Blu-ray set on the life and death of Owen Hart has been revealed, courtesy of the
Wrestling DVD Network
. The list includes all chapter titles for the documentary feature on disc one, as well as all extras, including the full list of matches selected for the package. Bret Hart recently commented on the documentary portion of the set, sounding very pessimistic about the chances that the documentary will do a good job telling the full story of his brother's life. Bret believes that WWE is having to walk on egg shells to cater to Owen's widow, Martha, who is
not supporting the DVD release
. Bret told the
Fight Network
:
€œI€™m looking forward to it but I€™m not really optimistic that it€™s going to be a great job. Martha handcuffed them so much. I don€™t know if they€™re even allowed to use any pictures from the past. It€™s a poorly done DVD because of all the restraints and the limitations that Martha put on it. To me, that€™s such a lousy thing to have happen. I think Owen would turn in his grave if he knew how much trouble Martha has gone to erase his career and make sure that nobody enjoys anything about his career today. It€™s a bitterness and selfishness that I can€™t stand by anymore. I think Martha€™s taken the wrong approach and she should understand that, you know, we all miss Owen. I lost a brother, I lost a great friend and maybe one of the closest people I knew on this earth. I want to celebrate his career, I want to watch his matches back €" not just with me, but with everybody he worked with."
It remains to be seen if Bret's concerns are valid or not. Judging by the words he used in the interview with the Fight Network, he doesn't appear to have seen the documentary feature as of yet. The full content listing for the set is as follows.
DISC 1Documentary: In Memory Fun-Loving Born and Bred Entertainer Owen Tales: Prank Stu Stampede Wrestling Blue Blazer Owen Tales: Late Night Calls The Rocket King of Harts Owen Tales: Press Slam Camp Cornette Owen Tales: Hog Pen Gold Champion Hart Foundation Owen Tales: Riding with Fans Return of the Blue Blazer Owen Tales: King of Carry On May 23, 1999 Legacy DISC 2Stories: Helpful Brother 1st WWE Match Bad News Prank Blue Blazer is Owen Thermostat Hacksaw Gym Call Hundred Dollar Goulet Shaving Cream Eeyore Hall Getting Pulled Over Battle Royal Luger 50 Sumo Bulldog WrestleMania 12 Fan Nuances Role Model European Title Match Slammy Beth Spirited Scottish Call Clown Nose Embracing the Nugget Venis SuperFan Popcorn Match Thrifty Owen Fan/Uncle Owens' Birthday Matches: Commonwealth Mid-Heavyweight Championship Match Owen Hart vs. Viet Cong Express #1 Stampede Wrestling € December 5, 1986 North American Heavyweight Championship Match Owen Hart vs. Makhin Singh Stampede Wrestling € May 1988 Blue Blazer vs. George South Wrestling Challenge € September 10, 1988 Blue Blazer vs. Mr. Perfect Meadowlands € May 8, 1989 Owen Hart vs. Mark Kyle World Championship Wrestling € March 16, 1991 WWE Intercontinental Championship Match Owen Hart vs. Shawn Michaels Wrestling Spotlight € August 28, 1993 Owen Hart vs. Bret Hart WrestleMania X € March 20, 1994 King of the Ring Finals Owen Hart vs. Razor Ramon King of the Ring € June 19, 1994 Lumberjack Match for the WWE Championship Owen Hart vs. Bret Hart Portland, ME € August 17, 1994 Exhibition Match Owen Hart vs. Nick Barberri WrestleMania XI Public Workout; Times Square, NYC € March 28, 1995 DISC 3 WWE Tag Team Championship Match Owen Hart & Yokozuna vs. The Allied Powers In Your House € July 23, 1995 # 1 Contender for the WWE Championship Owen Hart vs. Shawn Michaels In Your House € February 18, 1996 Owen Hart vs. Mankind RAW € January 6, 1997 WWE European Championship Tournament Finals Owen Hart vs. British Bulldog RAW € March 3, 1997 WWE Intercontinental Championship Match Owen Hart vs. Rocky Maivia RAW € April 28, 1997 10-Man Tag Team Match The Hart Foundation (Bret Hart, Owen Hart, Jim Neidhart, The British Bulldog & Brian Pillman) vs. Stone Cold Steve Austin, Ken Shamrock, Goldust & Legion of Doom In Your House: Canadian Stampede € July 6, 1997 WWE European Championship Match Owen Hart vs. Goldust RAW € January 26, 1998 Dungeon Match Owen Hart vs. Ken Shamrock Fully Loaded € July 26, 1998 Owen Hart vs. Edge Breakdown: In Your House € September 27, 1998 BLU-RAY EXCLUSIVES Blue Blazer vs. Red Rooster Madison Square Garden € December 30, 1988 Owen Hart vs. 1-2-3 Kid King of the Ring € June 19, 1994 Tribute Videos €" RAW; May 24, 1999: Tom Prichard Goldust Road Dogg Savio Vega Bradshaw Droz D-Lo Brown Mike Chioda Terry Taylor Val Venis Hugo Savinovich Gangrel Bob Holly Mick Foley Howard Finkel Triple H & Chyna Edge Gerald Brisco Paul Bearer Ron Simmons Christian Test Pat Patterson Bruce Prichard Tony Garea Debra Prince Albert Teddy Long Jeff Jarrett Dave Hebner Mark Henry Brian Christopher Blue Meanie Sgt. Slaughter Maria Felipe X-Pac Al Snow Michael Hayes with Matt & Jeff Hardy Tim White Big Show Scotty 2 Hotty Jim Dotson
"Owen: Hart Of Gold" will be released in the United Kingdom on December 7 and the United States on December 8.
Create Content and Get Paid
---