Full WWE King Of The Ring 2021 Brackets Revealed
SmackDown finally clued everyone in on the brackets for this year's King Of The Ring.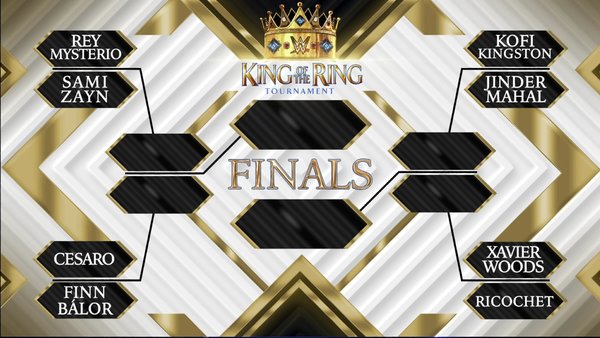 WWE took their time announcing the 2021 King Of The Ring brackets, but the company finally leaked them on Friday's SmackDown.
Two names have already advanced to the semi final stage too; Sami Zayn beat Rey Mysterio in one quarter final, and Finn Bálor toppled Cesaro in the other. That, in effect, means it's Zayn vs. Bálor on next week's SmackDown (which is quite the match).
Raw's line up has also been revealed.
Kofi Kingston will meet Jinder Mahal in the first quarter final on Monday. Then, his fellow New Day cohort Xavier Woods faces Ricochet in the other. Most fans believe that WWE fancies booking some friendly rivalry between the pair come the KOTR semi finals.
Why not, eh?
Mahal is arguably the only lame duck in an otherwise-strong field. Few would have any complaints if Zayn, Bálor, Kingston or Woods went on to win the entire thing. Xavier had been super-supportive of a King Of The Ring comeback earlier this year too, so maybe he should get the nod.
Sentiment rarely has any place within WWE booking though, and it might make more sense for a heel to win anyway. 'King' Sami it is then?
Create Content and Get Paid
---