What Is The Future Of Domestic WWE PPV?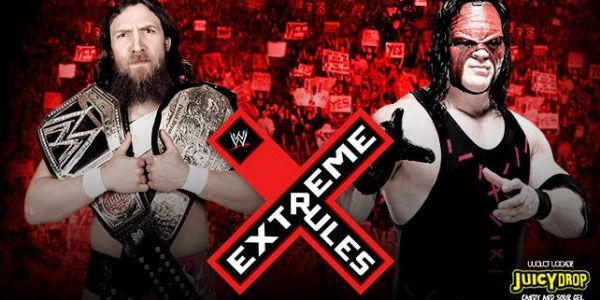 Will this be the last year of WWE being on traditional PPV in the United States? Or have rumors of its impending demise been greatly exaggerated? After WWE announced 667,287 subscribers for the WWE Network, most expected that traditional PPV purchases from domestic households would be significantly down. Internally, WWE was expecting about 250,000 buys. However, WWE stunned analysts (and themselves) when they declared that €œnearly 400,000 US homes€ had ordered the landmark Wrestlemania XXX event. It took some hard work but WWE was able to coax all the major providers (inDemand, Dish Network, DirecTV) to carry Wrestlemania 30. Convincing the myriad of systems to stick around clearly paid off; Cable & Satellite Systems and WWE all reaped the spoils from the larger-than-expected domestic audience purchasing the PPV (spending $60 to $70 per household). But this was a short-lived alliance. DirecTV has decided to pull the plug on WWE PPVs, at least for the time being. Dish Network, who earlier had protested the WWE Network launch by yanking Elimination Chamber off their systems, appears to once again be dropping WWE coverage. Just a few months ago, during the February€™s fourth quarter conference call, WWE noted that these two systems represented about 35% of PPV which is €œroughly relative to their coverage of homes in the U.S.€. Suddenly, a third of WWE's PPV marketplace just shut them out, After thirty years of producing Pay-Per-View events, it looks like launching the over-the-top WWE Network may be the final nail in WWE€™s PPV coffin. Yet contrary to popular sentiment, domestic Pay-Per-View business was not dead. Not only have combat sports (Boxing & UFC) continued to generate hundreds of millions of dollars annually, but WWE was nowhere close to a death spiral.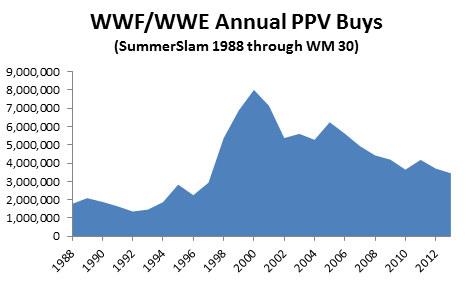 As the chart clearly demonstrates, PPV buys grew enormously in the past 15 years. This growth in PPV Buys was driven by two major factors: (a) Increasing the frequency of PPVs and (b) expanding the number of homes capable of ordering PPVs.
FREQUENCY
(a) Following the early 1990s lull, WWF began the €œIn Your House€ PPV series following Wrestlemania XI in 1995 which resulted in WWF having at least 12 PPVs each year.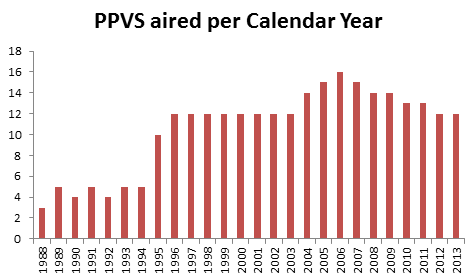 REACH
(b) According to research published in "Stay Tuned: A History of American Broadcasting", in 1989, only about 26% of the 52.6M Households with Pay-TV had Pay-Per-View access. However, by 1999, just one decade later, that number had grown to 58% of 68.5M Pay-TV Households. That was a higher threshold of access, but still a far cry from 100%. It really was the age of digital cable that allowed nearly all homes that have pay TV to be able to order PPV. (Well, provided that their cable & satellite providers agree to carry the PPV!)
RESULTS
The result of the combination greater PPV frequency and greater PPV available is that PPV Revenue has been quite strong for the past 15 years: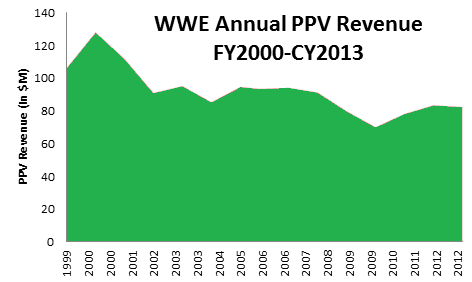 Importantly, WWE has raised the price of PPV several times through the last 25 years. In most cases, it was a profitable decision. Enough fans stuck around so that the ultimate revenue generation surpassed the lost revenue from those that decided to stop purchasing. It€™s true that things are down from the PPV revenue boom period (1999-2001). Last year€™s PPV Revenue ($82.5M) is certainly lower than PPV revenue in 2000 (about $120M).
However, the PPV business is far from dead.
2013 was less than 5% off the ten year PPV Revenue average. That€™s what makes the WWE Network launch such a controversial and disruptive decision. We€™ll need to be able to make some assumptions about the future of WWE PPV Business and the nature of WWE Network growth in order to evaluating whether the benefits outweigh the costs. Click "next" below to continue the analysis...