Global Force Wrestling Partners With Promotions In Australia And New Zealand
Jeff Jarrett's promotion continues to expand its global reach.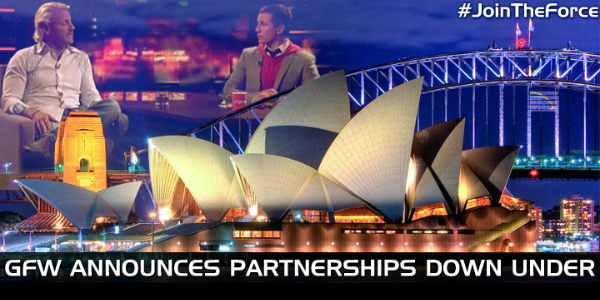 It€™s been a little while since there was any major news regarding Jeff Jarrett€™s new promotion, Global Force Wrestling. However, GFW has been thrust back into the spotlight as of today after announcing yet another plethora of co-promotional partnerships. Jarrett made headlines earlier this month when he joined New Japan€™s Bullet Club. GFW€™s website and YouTube channel have promised exclusive footage of the shocking event soon -- though that€™s a different story for a different time. For now, Jeff has turned his attention back to his burgeoning promotion, Global Force Wrestling. Today, GFW announced partnerships with several wrestling promotions in Australia and New Zealand. The company€™s worldwide reach continues to expand with this announcement, as GFW has previously inked deals with New Japan, AAA, WWP in South Africa, and various European promotions. The August 26th press release announced deals with PWA Australia, WrestleClash, Riot City Wrestling, Explosive Pro Wrestling, and Impact Pro Wrestling. These promotions span the entirety of Australia and into New Zealand -- Sydney, Melbourne, Adelaide, Perth, and Auckland, respectively. Jarrett commented on these new deals, stating, €œIt seemed like a natural progression to reach out Down Under. a solid fan base throughout Australia and New Zealand, and we€™re pleased to have an opportunity to bring that product to America.€ Famed television presenter and Australian celebrity, Rove McManus commented on the agreements as well. Rove commented that he is familiar with many of the wrestling talents in Australia and New Zealand. He further stated that he believes €œthe time is right to start showing the world why they breed us Aussies tough. Some of the best entertainers in the world have learned their craft in Australia and no doubt we have some of the best professional wrestlers in the world right at our doorstep.€ Jeff Jarrett continues to put real meaning behind the word €œglobal€ in Global Force Wrestling. With this latest announcement, the company has reached partnerships with various promotions in every continent except for South America. Still, the promotion has not announced much beyond these partnerships, and a debut has not been set. However, things seem to be progressing naturally, if a bit slowly, for Jeff Jarrett and GFW. Let us know your thoughts on this latest announcement from Jarrett and Global Force Wrestling in the comments below.
Create Content and Get Paid
---