Goldberg Makes Dolph Ziggler Worry About DYING In The Ring
"Maybe if you're in there with Goldberg, you think about it a lot more," says Ziggler of Goldberg.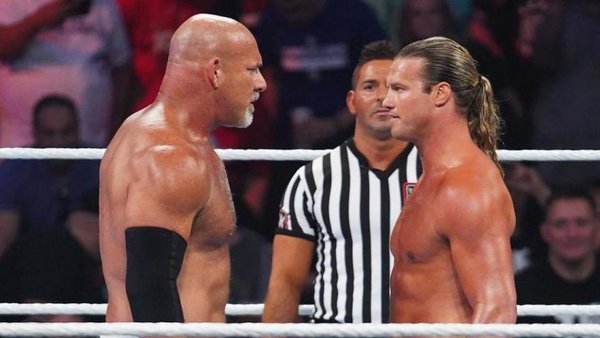 Dolph Ziggler doesn't think about dying in a wrestling ring often, but when he does, it's usually when he's standing across the squared circle from Goldberg.
The WWE Raw star said as much in a new interview with XeniaDidThat, speaking on his SummerSlam 2019 rival when asked about whether or not dying in the ring was something that ever crossed his mind:-
"A lot of times you don't, but maybe if you're in there with Goldberg you think about it a lot more."
Whether or not these comments are in kayfabe or a legitimate shot is open to interpretation. However, Ziggler did mention earlier in the interview that his tenure with WWE has seen him build such trust that he can confidently say what he wants without misrepresenting his employer:-
"Through the 15 years here [in WWE], where I've built up a lot of goodwill, more than probably anybody, I can go back it up. I feel confident to go 'I know I'm representing the company well that pays me.'"
Ziggler and Goldberg have wrestled only once before, with the former WCW Champion destroying Dolph in under two minutes at SummerSlam 2019. This came following several months of goading from Ziggler, who name-dropped Goldberg apropos of nothing until Goldberg finally appeared prior to SummerSlam, returning from a two-month break.
Said break followed a disastrous match against The Undertaker at Super ShowDown 2019, in which Goldberg and his opponent botched several moves, leading to widespread concern. Concussed during the bout, footage of Goldberg appearing to temporarily collapse after the bell quickly hit the internet.
Goldberg, 54, will face Bobby Lashley at Crown Jewel 2021 this Thursday (21 October).
Please include a H/T and link back to WhatCulture if using any of the above quotes, while also linking the original source.
Create Content and Get Paid
---