Goldberg Says WWE "Owes" Him A Retirement Match
Could Da Man get to return for one final bout?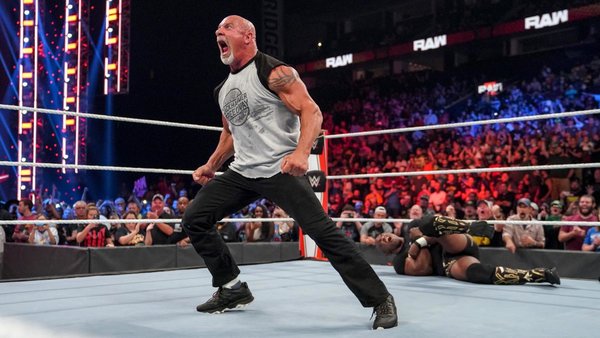 Could Goldberg be returning to WWE for one final match? If Da Man gets his way, he sure will be.
Speaking during a recent interview with SI.com's Week in Wrestling, Goldberg pulled out the classic 'never say never' line when discussing a return to the ring. More interestingly, though, he noted how WWE "owes" him a retirement match.
As the four-time World Champion explained:
"You never say never, especially in wrestling, and they owe me one. That's all I can say. I made a deal with the devil and I did my job, and they owe me a retirement match. At the end of the day, at 56, it's not something where I'm sitting by the phone waiting for a call. I've got a few ideas of how to do it on my own, possibly in Israel. So, never say never."
Goldberg last laced up his boots just over a year ago, unsuccessfully challenging Roman Reigns for the WWE Universal Title at February 2022's Elimination Chamber event from Saudi Arabia.
Prior to that, Big Bill had three matches across 2021, all of which he lost; two defeats coming at the hands of Bobby Lashley, and one loss to Drew McIntyre. The last time the WWE Hall of Famer tasted victory was back at Super ShowDown 2020, where he defeated 'The Fiend' Bray Wyatt for the Universal Championship. Goldberg would drop that prize to Braun Strowman just one month later on Night 1 of WrestleMania 36.
Whether Goldberg returns to the ring one last time in WWE or potentially elsewhere, that remains to be seen. And if that does indeed happen, many wrestling fans have long clamoured to see Goldberg square off against a certain 'Stone Cold' Steve Austin...