Goldberg Targets Bobby Lashley In WWE Raw Return
Big Bill Goldberg is back in WWE - and his sights are set on Bobby Lashley.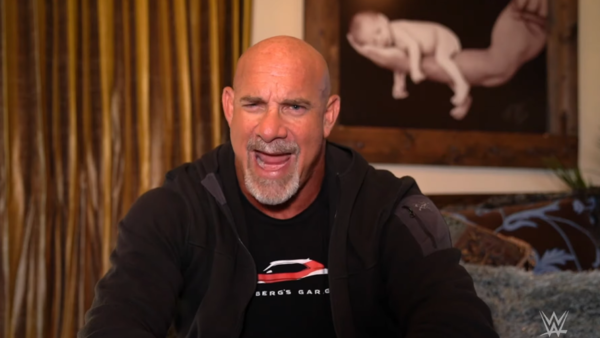 Goldberg returned to WWE on last night's episode of Raw, targeting Bobby Lashley in a beamed-in comeback promo.
Last seen on the 29 August episode of Raw, during which he claimed he required surgery after losing to Lashley at SummerSlam 2021 (21 August), the former WCW Champion suggested Bobby was lying when he said that choking out Bill's son, Gage, at the pay-per-view was an accident.
Vowing to stand up and protect his offspring, Goldberg said he was coming to hurt Lashley. If Bobby struck lucky, Bill would kill him (his words!), saying he would enjoy handing out punishment to his intended victim.
Gage Goldberg came into Lashley's storyline with his father ahead of SummerSlam, when he became embroiled in a ringside confrontation with Bobby and manager MVP on Raw. He then leapt into the ring after Goldberg vs. Lashley was called off by the referee due to the then-WWE Champion's prolonged assault on Bill's knee, leading to Bobby putting Gage in the Hurt Lock after Goldberg Jr. head leapt upon the Hurt Business leader.
WWE is yet to officially confirm a date for Goldberg vs. Lashley II.
Create Content and Get Paid
---