Guess The Two WWE Superstars Pictured With Sting
Generations collide.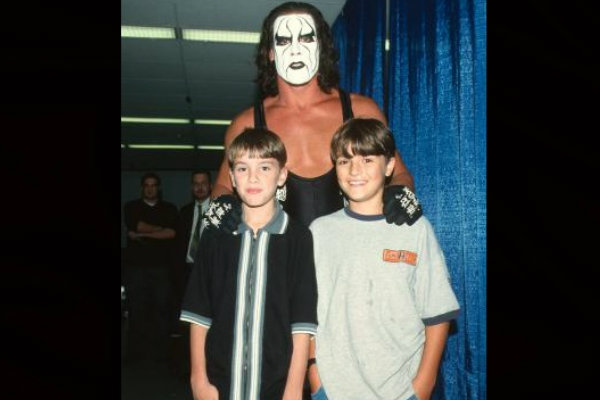 Two current WWE superstars met Sting way back in 2000 at a WCW show. Those two boys were none other than a ten year old Bo Dallas and thirteen year old Bray Wyatt. The photo of the pair meeting their wrestling idol has surfaced on social media, showing just how cross generational WWE has become. On a Raw after-show just a few months ago, Sting decked Dallas with the Scorpion Death Drop. Bo and Bray, real names Taylor Rotunda and Windham Rotunda, were backstage at the WCW show because their father Mike Rotunda was working there. Being around the wrestlers is partly what inspired the two boys to get into wrestling, and they've now got semi successful careers themselves. Bray is definitely the more prominent of the two in WWE, having worked The Undertaker at this year's WrestleMania. Bo was a former NXT champion, but has been mostly a joke act when rarely used on WWE television. As for Sting, he's still going strong, and looked great when competing in his first WWE match at WrestleMania this year. Although he lost to Triple H, he's expected to return for a match at next year's WrestleMania 32. There's no word on who the opponent is, but apparently it won't be The Undertaker. Maybe WWE could do Sting versus Bray Wyatt, using the above photo as part of the back story.
Create Content and Get Paid
---