Here's When WWE's Natalya Expects To Return From Injury
The latest on Women's Tag Team Champion Natalya, who picked up a knee injury on last week's Raw.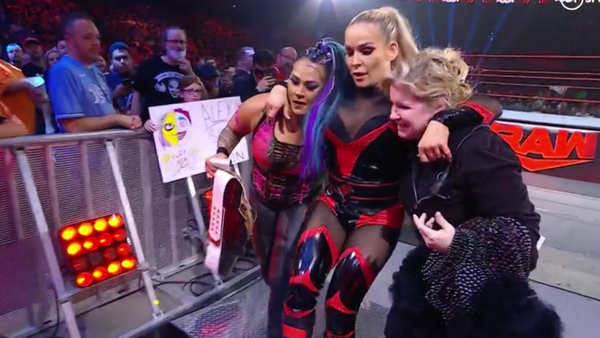 Natalya expects to be back in a WWE ring within a month.
Speaking on the Table Talk podcast, the reigning Women's Tag Team Champion said that despite picking up a knee injury on last week's episode of Raw, she is only a few days from hitting the treadmill. She wasn't in any pain after being carried away from ringside by Tamina, though she still needed to go under the knife (h/t Figure Four Online/Wrestling Observer for the transcription):-
"I am two days away from running on the treadmill, so I'm very excited about that. I had screws and stuff drilled into my bone. There were no broken bones, but it needed surgery. For some weird reason, I didn't feel any pain. And I think it was because we were with fans... hopefully soon. For me, just to be totally transparent, the surgery was Friday. I was walking with no crutches three days later."
Never doubt Natalya's toughness.
The veteran went on, outlining her recovery timeline:-
"I probably have another week before I get my stitches out. I've gotta let my bone heal a little bit. But probably in the next little bit, probably under a month, we'll see, obviously I still have to get a doctor's clearance."
Natalya's injury while teaming with Tamina to face Eva Marie and Doudrop prompted the referee to fast-forward to the finish, with Nattie unable to continue. Tamina picked up the victory by pinning Eva Marie shortly after the cradle that seemingly caused the injury.
It looks, for now, like WWE won't be stripping Natalya and Tamina of the Women's Tag Team Titles they took from Shayna Baszler and Nia Jax earlier this year. Tamina walked out with both belts over her shoulders on this week's episode of Raw.
Create Content and Get Paid
---