Here's Who Won WWE's Andre The Giant Battle Royal On SmackDown
LA Knight got a huge reaction from fans on SmackDown, but WWE went with somebody else.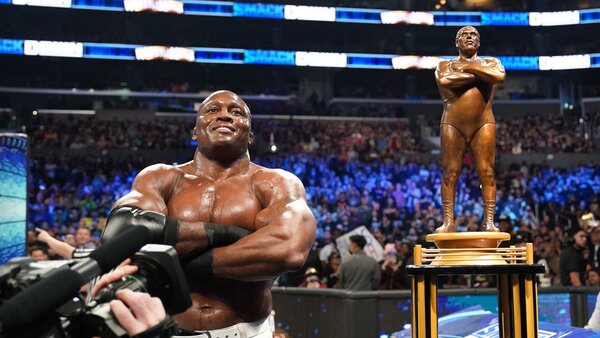 Bobby Lashley lastly eliminated Bronson Reed to win this year's Andre The Giant Memorial Battle Royal trophy on the 'go home' edition of SmackDown before WrestleMania 39.
Former WWE Champ Lashley was one of the only workers in the match who had a full entrance, so the company didn't really hide their intentions pre-match. It is, however, worth noting that LA Knight received a huge show of support from the live crowd - they were really into him, which bodes well for the ex-heel's prospects following the 'Mania weekender.
Bobby's name joins the likes of Jey Uso, Cesaro and Baron Corbin on the Andre winner's list though, and Lashley has since fired out an open challenge for either night in Hollywood. His would-be match vs. Bray Wyatt was scrapped a few weeks ago, but it looks like 'Uncle Howdy' (Bo Dallas) could still be in town for WrestleMania.
If so, then don't be surprised if he's Lashley's rearranged foe for the bumper card(s). Or, perhaps Triple H and Vince McMahon have someone else in mind for the Battle Royal champ.
Being honest, WWE will forget about the trophy again within weeks.