How AEW Saved (And RUINED) Wrestling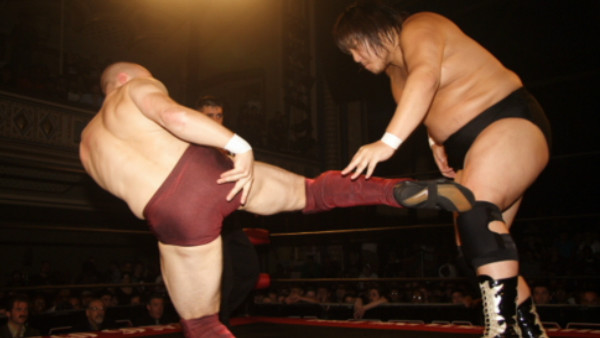 By designating itself in such a way - and refining so many different philosophies to best-in-class level - AEW has robbed the wider wrestling world of so much. And it's not as if Khan is acting with malice, just to be clear. It's an unintentional byproduct. Mostly.
The wrestling world outside of the mainstream has never felt smaller nor more uninteresting. Khan's own Ring Of Honor secondary brand is great when it peaks, but it cannot operate in a way similar to Triple H's NXT of 2014-19 because it offers nothing that AEW doesn't already. This take will age horribly if Supercard of Honor is as good as the line-up suggests - the quality ceiling is an all-time great pay-per-view - but the television while good isn't terribly exciting or state-of-the-art or new or fascinating in any way.
Impact Wrestling offers high-end match quality, which sits uneasily alongside sports entertainment shenanigans. It's essentially WWE lite and doesn't make a blip. It's easy to believe in Joe Hendry, and Impact does a bang-up job of pleasing its base, but it's as niche as it has ever been. It is irrelevant, feels minuscule, and the days of something like the X division or even the 'Broken' universe are long dead. Impact is no alternative.
There is at least one fantastic match on the North American independent circuit every week. This is great, obviously, but in addition to being a problem unto itself - so much bleeds into itself at a constant rate with no cultural imprint - the "banger" match is now the preserve of AEW Dynamite. The indies no longer boast an identity. PWG made its major label debut four years ago.
The 2000s scene was incredible at its best. Something like the ROH Vs. CZW feud of 2006 is impossible now. It was scintillating back then; arguably the greatest inter-promotional rivalry ever, each side proudly embodied values that the other either despised or deemed snooty and pretentious. The 2000s catalysed a big bang of ideas. AEW has subsumed these ideas.
It's impossible for something as interesting and believable as the ROH Vs. CZW programme to happen now when AEW happily books Nick Gage and Timothy Thatcher on its programming.
This isn't necessarily a bad thing. In fact, it is tremendous. It was a disgrace that the stars of Ring Of Honor's prime years were ignored (Samoa Joe, the Briscoes), pushed reluctantly (CM Punk) or outright buried (Bryan Danielson) by WWE. The best minds of that generation were destroyed for too long by Vince McMahon's madness, cosmetic bias and arrogance. Some of the best wrestlers of all time waded through so much sh*t at the behest of people who hated wrestling in their physical primes. AEW embraces pro wrestlers as artists. The travesty of a lost generation has been resolved on the mainstream stage.
CONT'D...(3 of 5)