How Does The AEW Roster View The Young Bucks?
An update on how the Jacksons are viewed behind the scenes.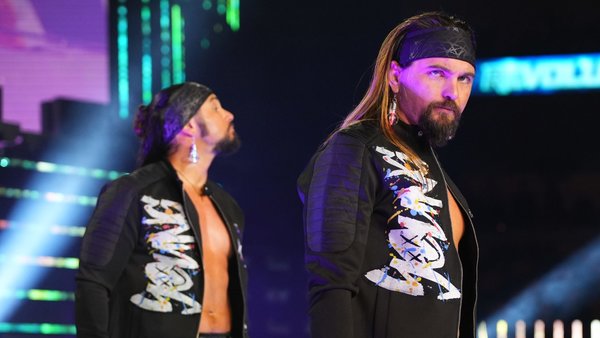 With AEW still dealing with the shocking fallout of this month's All Out - well, the post-All Out shenanigans, that is - there now comes word on how the Young Bucks are viewed by the AEW roster.
Of course, Matt and Nick Jackson are both currently suspended by Tony Khan's promotion due to a backstage altercation following CM Punk's explosive media scrum comments after All Out. The Jacksons, Punk, Ace Steel and Kenny Omega are all serving a suspension right now.
Per Wade Keller at the PWTorch, the general consensus backstage is that the Bucks are generally well liked.
As Keller put it on a recent Torch audio show (via WrestlingNews.co):
"The Bucks are not seen as abrasive personalities. Passive aggressive? Yes, there's some aspects of that... they're not seen as assh**es. People who don't like Punk have more negative things to say than people who don't like the Bucks have to say about them in terms of their characterisation."
Wade continued:
"The Bucks might rub people the wrong way or not be their type of people or whatever, but they're not jerks, and that's kind of part of the dynamic here. I think some people looked at Punk here and said, 'You might not like that they are not taking your advice, you might think, 'Oh, that comment didn't need to be made''... it's hard for people to imagine Matt and Nick deserving that kind of call-out publicly in a context that should have been about celebrating a World Title win and a really good PPV."
AEW is currently waiting for a third party investigation to play out, with said investigation looking into the aforementioned backstage altercation that took place after All Out. There, it's alleged that the Young Bucks and Kenny Omega went to CM Punk's dressing room, a fight broke out, Nick Jackson was hit in the eye by a chair from Ace Steel, and Steel is also said to have bit Omega.
The specifics of this situation vary from the day to day, with there several different accounts of how exactly all of this happened. Immediately following All Out, Tony Khan stripped Punk of the AEW World Title and the Bucks and Omega of the AEW Trios Tag Titles, whilst placing those three, Steel, Michael Nakazawa, Brandon Cutler, Pat Buck and Christopher Daniels on suspension.
As it stands, Nakazawa, Cutler, Buck and Daniels' suspensions have come to an end, but this matter is clearly far from over - with there even being talking of legal action potentially taking place.