How Tony Khan's Biggest Mistake Will Change AEW Forever
All Elite Wrestling can't be ALL Elite five hours a week...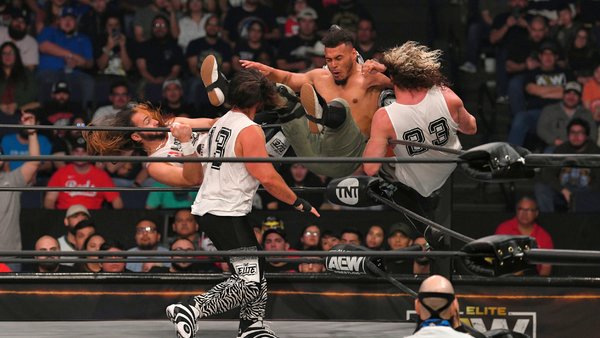 In a general sense, it's time for this b*llocks to end. It is absolutely exhausting.
It was thought that, following Full Gear last year, the dark cloud that cloaked All Elite Wrestling in the wake of Brawl Out had lifted. The Elite had returned, and all indications pointed towards CM Punk leaving. Wade Keller of PWTorch reported in September that Tony Khan was possibly negotiating a buy-out of Punk's contract. This wasn't the ideal solution - Punk was incredible in AEW, some embarrassing but ultimately insignificant botches aside - but it was a solution at least. Closure.
AEW felt whole or something far more like itself the second the 'Carry On My Wayward Son' blared over the speakers. If you as a fan were drawn to what the promotion used to be, you were reminded of it in the form of an exhilarating Trios battle opposite Death Triangle. Six more followed, each more different (if not quite as thrilling) as the last, but the Best of Seven series was great, mostly.
Beyond that, the Elite seemed content to work their party matches and build them with irreverent backstage segments. It became clear, amid the poor build to Revolution, that the cloud hadn't really lifted at all. The Elite's run scanned as a side quest as, in parallel, AEW built Revolution 2023 in a very basic and uninspiring way outside of the main event.
Then, AEW really seemed to hit form. As if taking the booking of Revolution personally, Khan abandoned his now-clichéd gauntlet programmes and renewed the Elite saga. For those three weeks, it felt like the power was back. And then Dave Meltzer alleged on the Wrestling Observer Board that CM Punk refused to fulfil his role in the rushed programme with Jon Moxley over last summer. In response, Punk buried him, and Chris Jericho, and alleged that AEW asked him to work when he was not medically cleared to do so. A new cycle of the dreaded Discourse began anew as fans scrutinised every rumour, every potential bit of subtext - "Punk was hopping around on one foot...".
Once again, the behind-the-scenes happenings proved far more luridly fascinating than the events onscreen. For almost eight full months, AEW Dynamite has become secondary to the un-filmed reality show. The quality of the fake show, which remains seminal at its peak, is immaterial. Until Punk returns or leaves, not a single storyline will matter as much as it could or should. He dominates everything. The games of unreliable narrators playing dumb are all people talk about.
The thing is, the b*llocks is coming to an end - in what threatens to be the least dramatically satisfying way imaginable.
CONT'D...(1 of 5)