How Vanguard 1 Helped AEW's BROKEN Matt Hardy 'Teleport'
Turns out Hardy didn't have super powers after all.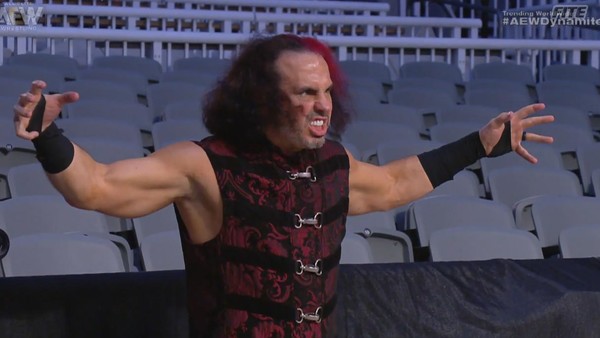 AEW and BROKEN Matt Hardy have clarified on Twitter that the former WWE star didn't actually 'teleport' on last week's episode Dynamite.
Hardy and Chris Jericho were involved in a segment which involved appearances from Vanguard 1, Sammy Guevara, Cody and Kenny Omega. When Hardy first appeared on the night, however, he was situated high up in the cheap seats. He would then seemingly 'teleport' to different spots in the arena before finally landing next to the ring.
Now, though, AEW and Hardy himself have revealed that the elaborate entrance wasn't made possible through superhuman abilities. Instead, Hardy used Vanguard 1 and his fleet of Aerial Assault Drones to project multiple versions of the BROKEN one in order to confuse the former AEW World Champion.
AEW had also used Vanguard 1 to update fans on the medical condition of Nick Jackson on this episode of Dynamite, revealing that he was '61%' recovered.
Hopefully we get to see Hardy and his BROKEN universe used this frequently on AEW programming for the foreseeable future, if only so we can see Chris Jericho cut another fantastic promo on Vanguard 1.
Create Content and Get Paid
---