HUGE Stable Split Upcoming In 2023 WWE Draft?!
WWE SmackDown set the scene for a major stable split during the 2023 Draft.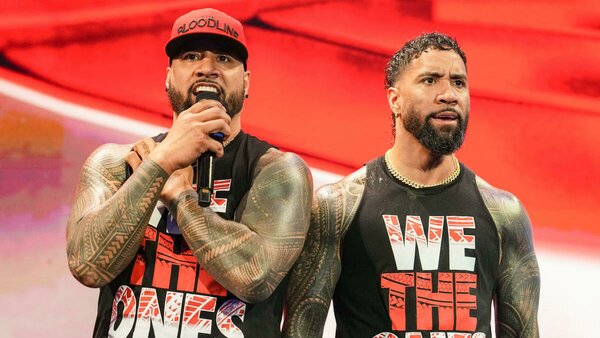 WWE is teasing fans with the prospect of a Bloodline schism during this 2023 Draft, and people won't find out whether or not the group is splitting until Monday's episode of Raw.
Roman Reigns (with Paul Heyman) and Solo Sikoa were the first names drafted, but Jimmy and Jey Uso weren't included in that gang. The brothers then went on to lose their Undisputed Tag-Team Title rematch to Sami Zayn and Kevin Owens in Friday's main event, which means their future is still very-much up in the air.
Ooh, the drama!
WWE's writers had Heyman and Solo treat The Usos like outgoing members, which is interesting. Of course, this is probably all part of the story and the siblings will also be drafted to SmackDown when the 2023 Draft concludes on Monday; it's a fun add-on to The Bloodline's story, if nothing else.
Putting Jimmy and Jey over on Raw could be explained away by Reigns/Heyman as an expansion for the group though. WWE would also probably justify The Usos on SmackDown occasionally under some post-Draft ruling anyway.
This is one to keep an eye on. Could The Bloodline actually be on the verge of collapse?!