HUGE Storyline Development For The Bloodline On This Week's SmackDown
You won't believe what happened during Roman Reigns' 1,000 day WWE Title celebrations.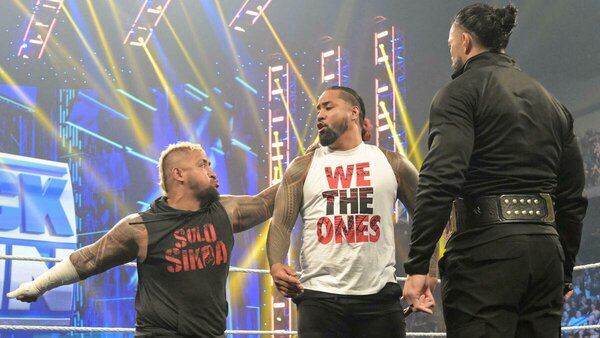 The Bloodline fractured yet again on last night's episode of SmackDown, and it looks like WWE could be heading for another bumper tag-team showdown on a coming PLE.
Roman Reigns received his new gold-plated Undisputed Title belt from Triple H during a 1,000 day celebration in-ring, then turned his attention to Jimmy Uso's attack at Night Of Champions. Some back and forth followed, and it appeared that Solo Sikoa had chosen his brothers over the 'Tribal Chief'.
Uh uh. Not quite.
Sikoa dramatically levelled Jimmy with a Samoan Spike, and it looks like he's staying put as Roman's only remaining henchman. It's worth saying that Paul Heyman's facial expressions throughout the segment were top notch - Paul E really sold all of this as meaningful, and his importance to The Bloodline's story should not be overlooked.
Don't be shocked if WWE tries to book Solo vs. Jimmy Uso one-one-one in coming weeks. Or, perhaps they'll keep everyone apart until Roman and Sikoa team up to face both Usos. Could that happen at Money In The Bank? It'd be a hell of a main event for SmackDown if not.