Hulk Hogan Returning To The Ring For Ric Flair's Last Match?!
A retired wrestler might've just given the game away about Ric Flair's "mystery opponent".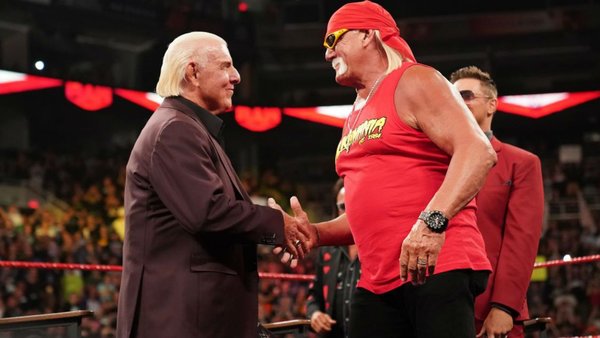 Hulk Hogan might be returning to the ring as Ric Flair's "mystery opponent" at Starrcast on 31 July.
Ex-WWE star Brian Blair kinda/sorta/pretty much gave the game away during an appearance on Wrestling Shoot Interviews. The former Killer Bee told hosts that he was "looking forward to seeing Flair and Hogan" at the show.
When pressed, Blair back-pedalled and added that he didn't know for sure whether or not Hulk would be stepping foot inside the ring at Starrcast; Blair obviously realised that he'd given some info out that he probably wasn't supposed to, so he said that he'd read rumours about Hogan's comeback online.
The retired grappler also revealed that he was set to phone Hulk once he was done with the interview. Here's hoping he didn't tell the 'Hulkster' what he told Wrestling Shoot Interviews! If Hulk is returning to the ring after all, then he'll want to break the news himself.
Flair is expected to team with AEW stars FTR against The Rock N' Roll Express this summer. Ricky Steamboat had been pencilled in as a possible partner for Rock N' Roll, but he knocked the gig back. Has Hogan stepped in as a replacement?
Only time will tell.
Create Content and Get Paid
---