IMPACT Wrestling Holding Gut Check Tryouts As Part Of Upcoming UK Tour
IMPACT holding two Gut Check tryouts in the UK next month.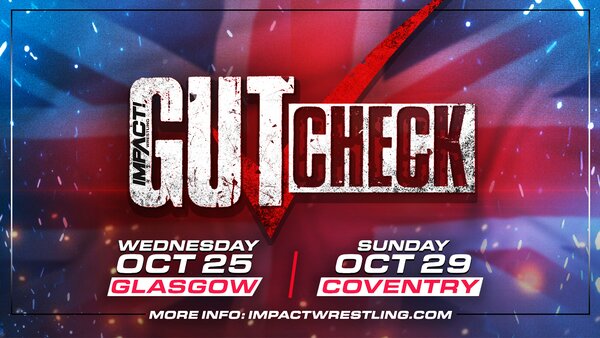 With IMPACT Wrestling running a four-show UK tour next month, the promotion has today announced that two of those dates will feature Gut Check tryouts.
For those not familiar with Gut Check, this was a competition launched in 2012 that offers up an opportunity to win a contract with what was at the time TNA. As TNA transitioned into IMPACT Wrestling, Gut Check has remained in place.
In terms of the UK tryouts, they will take place on 25 October at Glasgow's Park Villa Community Sports Hub and 29 October at Coventry's HMV Empire. Judges for these tryouts will be IMPACT President Scott D'Amore, IMPACT Hall of Fame Gail Kim, and former IMPACT Digital Media Champion Joe Hendry.
The winners will receive a development deal with IMPACT to train at Ontario, Canada's Can-Am Dojo, receive a bursary towards living expenses, and have the chance to earn a contract with the organisation. The Can-Am Dojo's coaches include Josh Alexander, Chris Sabin, and current IMPACT World Champion Alex Shelley.
Registration for both Gut Check events is now open at a cost of $100 USD/£80.
The schedule for IMPACT's four-show UK tour is as follows:
- Thursday 26 October at O2 Academy in Glasgow, Scotland
- Friday 27 October at Walker Activity Dome in Newcastle, England
- Saturday 28 October at HMV Empire in Coventry, England
- Sunday 29 October at HMV Empire in Coventry, England
Fans with tickets for either Coventry date can attend the Gut Check tryout for free, but no fans will be admitted for the Glasgow tryout.