INSANE Contract Clauses WWE Offered The Elite Revealed
What Cody & The Young Bucks passed on to launch All Elite Wrestling...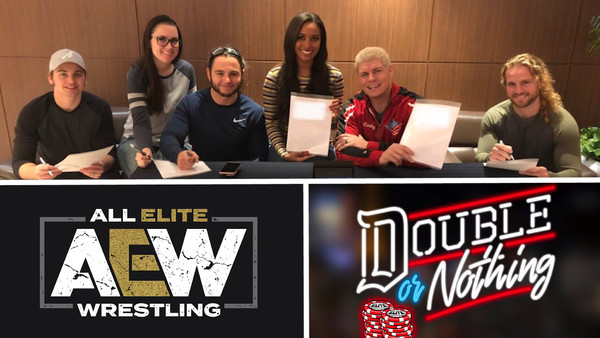 AEW Executive Vice Presidents Cody and The Young Bucks had unheard-of WWE opportunities presented to them just months before forging ahead with All Elite Wrestling's January launch.
As reported in a typically loaded Wrestling Observer by Dave Meltzer, the trio and fellow Elite member Hangman Page had the red carpet rolled out by WWE but rejected incomparable terms to go it alone with their new venture. Meltzer suggested that the ALL IN stars were offered creative dominance on NXT and the main roster, as well as a WWE Network home for the group's popular Being The Elite vehicle. He said;
"The problem was the success of All In changed the value structure. Paul Levesque worked hard at getting all four into WWE. Page was offered main roster money to work NXT, where he'd have been pushed as one of its top stars. The Bucks & Cody were offered strong deals. The Bucks deal was for money roughly the same as WWE champion A.J. Styles, which would have also included BTE being made a regular weekly show on the WWE Network, as well as something I've never heard WWE concede on, which was a six-month window where they could have left their three-year contract if they wanted and weren't happy with their push."
Resisting all those dangled carrots, The Elite steered into public knowledge of said discussions with their BTE storyline centred around a mysterious 'H' pursuing their signatures. The payoff saw Matt and Nick Jackson superkick the sledgehammer-wielding figure to all but confirm AEW's formation. Intriguingly, the storyline didn't damage their perception within WWE, with Meltzer noting that great relations between the crew and 'The Game' during negotiations. He noted that;
"Those who work in WWE with knowledge of the deal were certain they wouldn't turn it down, and outright told me that they would be debuting at the Rumble, and had a Rumble-to-Mania significant storyline. But they had roughly 12 hours of talks with Levesque - who they heavily praised in how he handled everything - in particular seeing the comedy aspect in the skit they did where they superkicked Kazarian dressed up as him over-and-over in what was the public turning down of the offer on BTE."
All the usual cliches apply here - nothing is forever and never say never in Wrestling, but these offers may be the best The Elite will ever receive. Turning down such favourable terms reflects both the performers' powerful faith in the eventual success of AEW, and WWE's own mindfulness of what kind of threat it potentially presents.
Create Content and Get Paid
---