Interesting Note On How Tony Khan Produces AEW's Commentary
AEW boss Tony Khan produces Jim Ross differently to Excalibur and Tony Schiavone.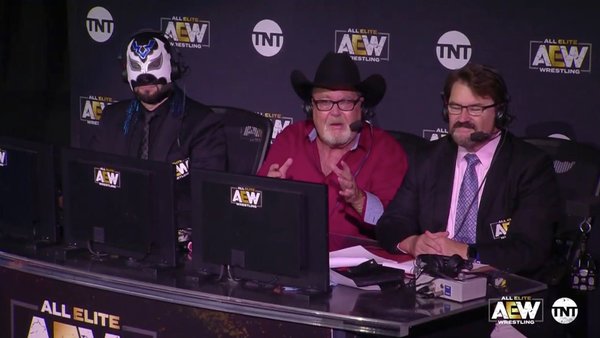 Tony Khan uses different methods to live produce all three of AEW's main commentators.
The All Elite boss told the 'Sports Media' show that he doesn't use a uniform strategy when he's relaying instructions or pointers over the headset during episodes of Dynamite and/or Rampage. In a fascinating peek behind the scenes, Tony said he rarely engages Jim Ross at all.
Why? Well, the announcing legend struggles to "process the feedback he's getting in his ear". What's more, JR doesn't really like to have someone constantly chirping away into his headset. So, in order to keep the peace, Khan directs most of his chatter towards Excalibur and Tony Schiavone during live broadcasts.
JR just sort of gets to do his own thing.
Explaining, Tony said this is far from a negative. In fact, he encourages Ross to remain "in the zone and keep [his] flow" going. If he doesn't like talkback over the cans, then he doesn't need to have it. Meanwhile, both Excalibur and Schiavone welcome Khan's direction.
Tony wants to manage all three the best he can. It'd be foolish to force JR to do something he's uncomfortable with.
Create Content and Get Paid
---