It's Official: THIS Was WWE's Most Hated Moment Of 2020
WWE's most hated 2020 moment didn't involve RETRIBUTION, dog food, or Lana/Lashley...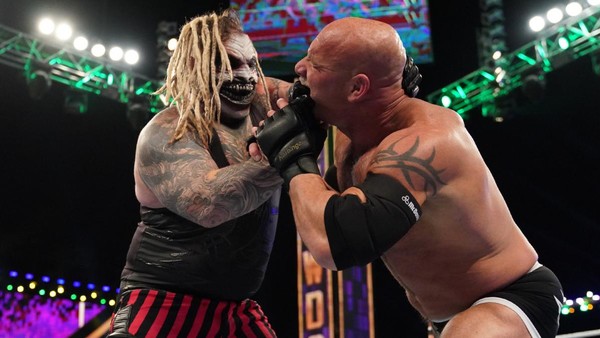 With its television ratings seemingly stuck in an irreversible slide, WWE is now more focused on pushing other metrics as evidence of positive engagement with its audience, flaunting its (admittedly incredible) video watch hours and social media interactions at every opportunity.
WWE swerves towards these numbers whenever officials are grilled on the shrinking television audience. Vince McMahon and Nick Khan will cite them alongside "changing viewing habits" and the overall cable slide to placate investors, though there's a dishonesty to this. Yes, WWE is a social juggernaut, and yes, cable viewership is down across the board, but the company made just $13 million from its much-vaunted YouTube channel in 2019 compared to $348.6 million in television rights fees, while Raw and SmackDown continuing to decline at a higher rate than the cable average.
Regardless, what better way to measure the promotion's most despised moments of 2020 than by going to one of its own favourite metrics? Live by the click, die by the click.
The horror shows within are ranked by their number of "dislikes" on YouTube, and surprisingly, there isn't a cinematic match, disembodied eyeball, or animatronic spider in sight...
(with thanks to Pro Wrestling Bits for sourcing the data and Reddit user u/alfyfromfrobes for circulating)
10. Liv Morgan & Rusev Vs. Lana & Bobby Lashley (Raw - 20 January 2020)
Dislikes: 6.4K
Nobody who was watching WWE at the start of the hell-year should be surprised to see an entry from the maligned Lana/Liv Morgan/Bobby Lashley/Rusev romance storyline here. The whole deal was panned from start to finish, though digital viewers absolutely tuned in it for, with the YouTube clips regularly finishing amongst the most-watched from any given episode of Raw.
Wrestling weddings are a draw. Even this video sits at 2.9 million, which goes some way to explaining the lofty number of dislikes.
Still, Lana opens this video by shouting "I'm the best wrestler in the world!" over the fallen Morgan, and it was a nothing match that brought little to the table outside of some fiery flurries from Liv. The storyline effectively came to a merciful end when Bobby speared Rusev for the win.