Jake Roberts Re-Signs With AEW
Jake the Snake will be All Elite for at least a few more years...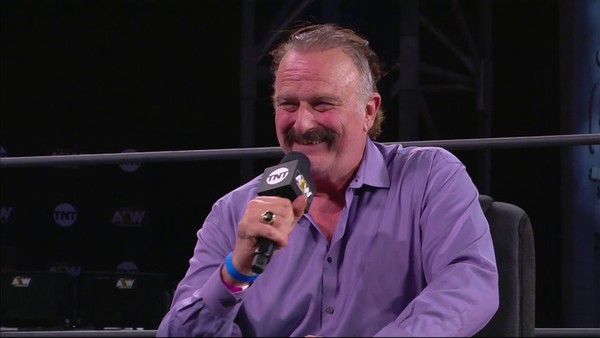 Jake 'The Snake' Roberts has signed a two-year contract extension with All Elite Wrestling.
The legend confirmed as much during a recent conversation with Diamond Dallas Page, who famously helped Roberts turn his life around as documented in The Resurrection Of Jake The Snake.
Originally signed to a ten-week AEW deal, Jake outlined the process that saw him sign an initial one-year extension - and now the additional two years (h/t POST Wrestling for the transcription):-
"When I originally signed with [AEW], it was for a ten week deal. At eight weeks, [a guy] comes along with some papers, 'You need to sign these.' I'm like, 'What for?' 'Well it's your contract.' 'Dude, I've only got two weeks left.' 'No, you got another year.' 'What?' And then just a few weeks ago, I buzzed Tony, I said, 'Hey, I've got four weeks left. What do you want me to do? I need a notice so I can start setting up my stuff' and he says, 'We need to sign another piece of paper' and I signed again and then after I signed it, I found out that it wasn't for a year, it was for more than a year. It was for two years."
Roberts formally debuted for AEW in March 2020, confronting Cody Rhodes in an acclaimed in-ring segment before introducing Lance Archer as his managerial client the following week. Roberts has been alongside Archer ever since, guiding him through the TNT Title tournament finals at Double Or Nothing 2020 and beyond, with a Texas Deathmatch opposite Jon Moxley on the horizon for tonight's Dynamite.
Now 66 years old, Roberts has been in wrestling all his life and debuted back in 1974.
Create Content and Get Paid
---