Jay Briscoe Dead At 38, ROH Legend Passes Away In Car Crash (UPDATED)
Briscoe involved in fatal car crash in his hometown, shocking wrestling and local communities.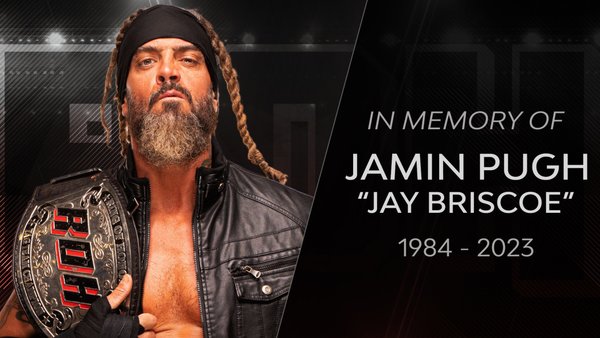 UPDATE - 18 January, 15:00 GMT: Jay Briscoe's wife, Ashley Pugh, has provided an update on her family, including daughters Gracie and Jayleigh, both of whom were in the car accident. See below.
Jay Briscoe, one half of one of the most decorated tag teams in professional wrestling history, died Tuesday in a car crash in his hometown of Laurel, Delaware. He was 38.
Local media reported that the fatal crash occurred around 5:30pm local time and left two dead. Dave Meltzer reported that Jay's brother Mark was not in the car, but two children were and were hospitalized.
Alongside his brother Mark, Jay (real name Jamin Pugh) formed the Briscoe Brothers, a dominant tag team who were in the midst of their 13th Ring of Honor Tag Team Championship reign, having defeated FTR at last month's ROH Final Battle 2022. Jay also was a former ROH World Champion.
The Briscoe Brothers held tag team gold nearly everywhere they went, winning the tag straps in CZW GCW, Impact and New Japan Pro Wrestling. They were the 2022 winners of the NWA Crockett Cup.
#ROHDayByDay Jay Briscoe helps his daughter practice her cheer routine from home during quarantine! #ROHStrong#StayHome🏠 pic.twitter.com/BzjCJ5CYfg

— ROH - Ring of Honor Wrestling (@ringofhonor) April 2, 2020
Despite appearing on several Ring of Honor PPVs after Tony Khan bought the promotion, the duo never appeared on AEW programming, unlike many of the other wrestlers who competed on the ROH shows. That very likely was tied to derogatory comments Jay had made on social media a decade ago about LGBTQ people, comments he had repeatedly apologized for in the years since.
The outpouring of support from the wrestling community was quick and steady throughout Tuesday evening, with performers across all promotions sending condolences and sharing warm memories. AEW and ROH head Tony Khan tweeted, "We'll do whatever we can to support his family."
(AUTHOR'S NOTE: A close friend of mine grew up with Jamin Pugh (Jay Briscoe) and provided some local updates from the community.)
The local community, which is pretty small and close-knit, is really shaken up by this. The Pughs were well-known with deep roots in Laurel, with the Briscoes' grandfather serving as the local high school football coach and athletic director for years. Elected officials were calling people sharing the news, crying as they informed people. The Laurel School District announced that they were closing schools for Wednesday.
Jay's wife, Ashley Pugh, has used Facebook to provide an update on her family following the accident. She posted that her daughters, Jayleigh and Gracie, were both involved in the accident, with Gracie heading to surgery that will hopefully enable her to use her legs again. Jayleigh also suffered serious injuries, but is stable.
Ashley wrote:-
We need prayers! Gracie is on her way into surgery on her back. Jamin would want the whole world praying for his little girl. WE BELIEVE IN THE POWER OF PRAYER!! Pray for the doctors and everyone working on her! Pray for her precious legs to move again! Pray for Jayleigh who has some pretty serious injuries, but is stable and resting! Pray for Gannon waiting at home! Pray for strength for all of us! We have a long long road ahead of us!
Rest in peace, Jamin Pugh.