Jim Ross BLASTS John Laurinaitis: "He Deserves The GD Misery He's Living"
AEW's JR shreds disgraced former WWE executive John Laurinaitis in incendiary fashion.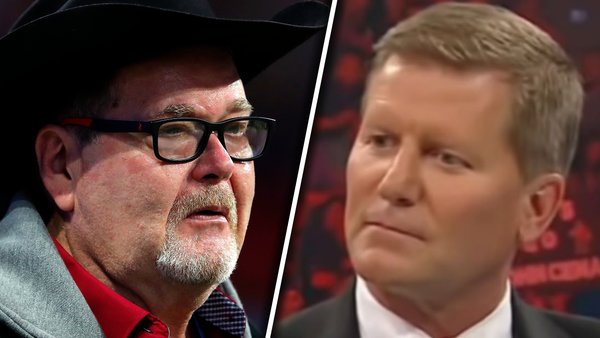 Jim Ross did not mince his words when addressing disgraced former WWE executive John Laurinaitis on a recent episode of his Grilling JR podcast, seemingly revelling in Johnny Ace's current plight.
Laurinaitis had been a high-ranking official in WWE since 2001, when he was brought in as a road agent following Vince McMahon's WCW buyout. It has was promotion to Senior Vice President of Talent Operations, effectively the company's lead talent relations role, that saw Laurinaitis court the most controversy - with his most damning scandal coming to light earlier this year.
WWE dismissed Laurinaitis in August, doing so after his implication in the Vince McMahon "hush money" scandal. McMahon had resigned from his position as CEO and Chairman prior to this. Laurinaitis, like Vince, was the subject of misconduct claims made by women within WWE, whom McMahon is alleged to have paid millions of dollars to suppress.
On Grilling JR, Ross said that despite hiring Laurinaitis to WWE, he never trusted him. The veteran announcer believes that his former colleague deserves the misery he is currently living (h/t WrestlingNews.co):-
"I had a hard time as time went on trusting Laurinaitis. That's sad to say. I hired him. I gave him a job when he needed it. I don't think he treated me quite right. He just wanted to show Vince that he was a better manager than JR and all these things. So now his ass is without a job and he deserves the Goddamn misery that he's living, that I perceive that he's living, and I didn't like how he treated me."
Damning testimonials of how Laurinaitis treated his WWE cohorts aren't hard to come by. When AJ Lee's 2017 book Crazy Is My Superpower: How I Triumphed by Breaking Bones, Breaking Hearts, and Breaking the Rules was released, one review noted:-
This is not a happy happy joy joy book. Yes, you will laugh a lot due to AJ's turn of phrase or some fantastically funny stories, but there is a real darkness and sadness to the first 20 or so years of Mendez-Brooks' life and you can't help feeling bad for her. The important thing is that she never gave up, was determined to become a pro wrestler and over came her size, massive amounts of sexism and misogyny from within the business and the fact a certain Director of Talent Relations (who is never named in the book but I have named their brother in this review.) directly told her that she was considered unf**kable by the fans and higher-ups. Ouch.
"Ouch" doesn't cover it.
Create Content and Get Paid
---