Joey Janela Set Himself On Fire At A GCW Show This Weekend
The ex-AEW man needed help to extinguish the flames at GCW Manic, where he faced Drew Parker.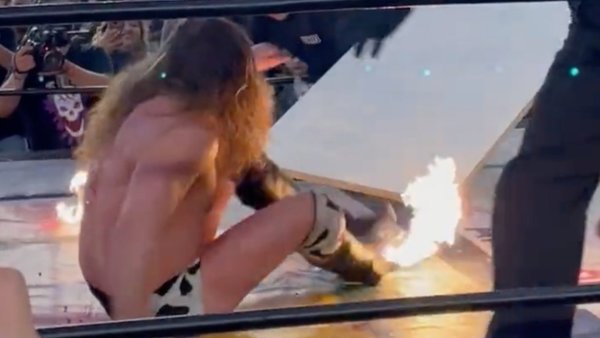 Joey Janela needed help to extinguish the flames engulfing his boot during a match against Drew Parker at Game Changer Wrestling's Maniac event this Saturday (21 May).
Facing the young deathmatch standout in the Maniac main event, Janela covered his boot with lighter fluid at one point, then set it ablaze to hit Parker with a superkick. A small part of the ring was ignited in the process, with Janela requiring assistance from the referee and other GCW crew members to put it out.
@mcjoerules caught it all on camera. Janela had to remove his blazing boot before the fires were put out, before proceeding to get up and cover Parker:-
Straight fire 🔥 super kick @JANELABABY to @drewparker341 #GCWManiac @GCWrestling_ pic.twitter.com/le4sIGdC8P

— José (@mcjoerules) May 22, 2022
Parker ended up winning the match.
Fortunately, it doesn't sound like Joey left the GCW show with significant damage. The former AEW wrestler has spent the past day or so posting memes about the situation on Twitter:-
Trying to go to bed but it still won't go out…

I already spent $36 at the vending machine on 7 bottles of water…Tried WebMD too… Any suggestions? pic.twitter.com/6J0a6jyy72

— "The Bad Boy" Joey Janela (@JANELABABY) May 22, 2022
One of the most important players on the North American independent scene for many years now, Janela has been a free agent since his AEW contract expired on 1 May, though he remained active in promotions like GCW while with Tony Khan's promotion.
Create Content and Get Paid
---