John Cena Calls Roman Reigns WWE's GOAT
Who is the greatest of all time? According to John Cena, it's Roman Reigns.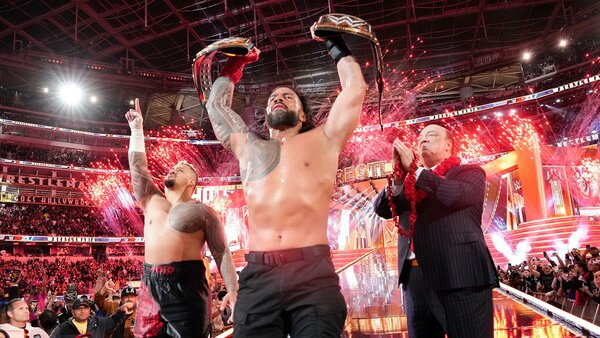 John Cena has called none other than Roman Reigns WWE's greatest of all time.
The legend told Busted Open Radio that the current Undisputed WWE Universal Champion would be his "personal number one" if he had to pick the best performer ever. That's seriously high praise, but Cena is very impressed by what Roman has done during this lengthy dual title reign.
In fact, he believes Reigns has "redefined how you do it". JC then went on to compare Roman's stint as 'Tribal Chief' of The Bloodline to Ric Flair's time on top of the Four Horsemen. What's more, Cena thinks Reigns has actually bettered what the 'Nature Boy' did back then, because he's been more selective about his appearances, become "exclusive" and kept fans wanting more.
John thinks Roman does a bang-up job of "passing energy to more than himself", and pointed to recent upturns in fortunes for acts like The Usos and Sami Zayn as proof.
All of this goodness combines to make Cena believe that Reigns is simply the best to ever do it. He'd put the SmackDown star ahead of himself and countless others for sure.