John Cena Could Play Superhero Lead In Mark Millar's "Superior" Film
Could "Super Cena" be coming to a theater near you?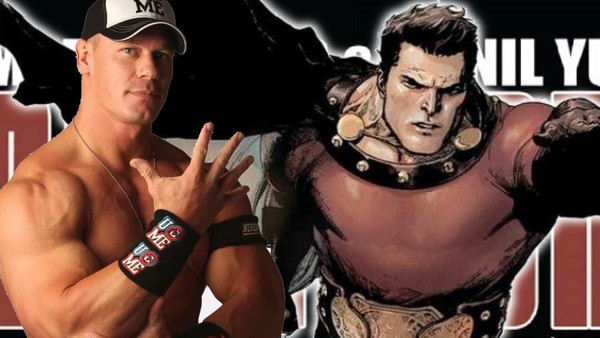 Over the past couple of years, John Cena's film career has taken off, but if a popular comic book writer has his way, "Big Match John" could be taking off in theaters - literally.
Mark Millar, writer of "Superior," took to Twitter this week to announce that he was interested in locking John Cena in for the title role. According to Millar, he had been watching "Trainwreck" and was blown away by Cena's comedic timing. That, plus the 15-time world champion's look, was enough to make up the writer's mind.
Millar claims he's "requested" Cena for the lead, presumably to 20th Century Fox producers making his film. Cena then followed Millar on Twitter and the writer then posted a further encouraging tweet for the casting...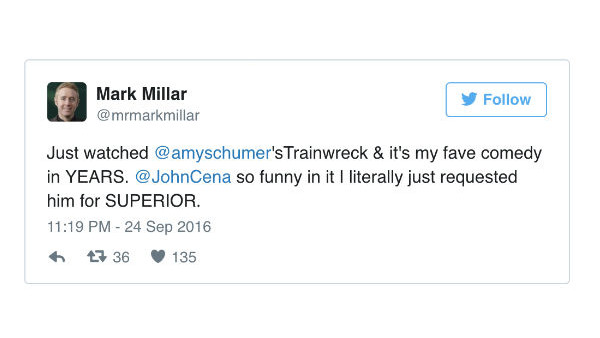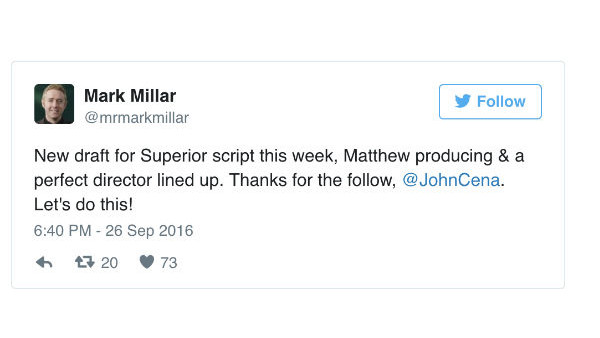 "Superior," released between 2010 and 2012 and drawn by Leinil Yu, is the story of a 12-year-old boy with multiple sclerosis who is given a wish by an alien monkey. The boy wishes to become Superior, a popular fictional hero analogous to DC's Superman. The wish is granted, and Superior enters the "real" world.

20th Century Fox bought the rights to "Superior" in 2014, making it one of many of Millar's comics to be adapted for the screen (others include "Kick-Ass," "Wanted," and "Kingsman: The Secret Service"). Despite its popularity, Millar's work has frequently been criticized as racist and misogynistic, with minority and female characters often being portrayed in stereotypical and ancillary fashion when compared to white male protagonists.