John Cena Rips Current WWE Champion: "I Don't Believe What You Do"
WWE legend John Cena reveals recent heart-to-heart conversation with current star.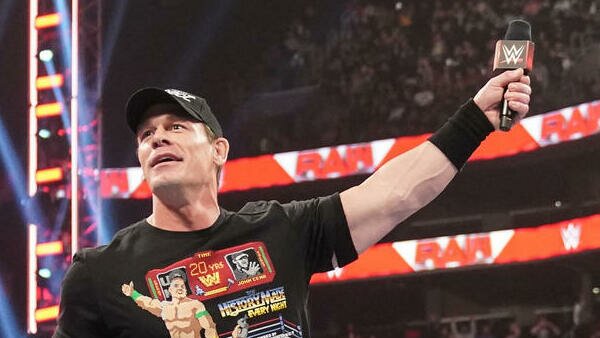 John Cena has revealed a private conversation he had with Austin Theory ahead of the duo's WrestleMania 39 match, with the WWE legend telling the current United States Champion that he doesn't believe what he does.
Speaking with Sam Roberts, Cena compared Theory, who defeated him at 'Mania, to Roman Reigns' first eight years in WWE, noting the length of time it took for 'The Tribal Chief' to finally do things his own way (h/t Wrestling Observer/Figure Four Online):-
I was really trying to hammer this home with Theory. It took Roman 10 years, eight years at the top, pushed for eight years for the lightbulb to go off and be like, 'I"m doing it my way. I will work with who they say, I will hit my times, but I'm going to be who I really am.' When I talk to somebody like Theory, who has stars in his eyes and at 25 thinks he's got a long road in front of him. You really need to start now, failing. Don't just perform, fail, like a lot and then one day you'll get it. You need to have like 85 suffering succotash moments.
Calling Theory "great and easy to work with," Cena spoke on the duo's backstage segment on the 6 March 2023 episode of Raw. The 16-time World Champion told the younger wrestler that he was a WWE executive's dream during that on-air conversation, and went through the segment's content with Austin beforehand:-
Austin is great and easy to work with and we wrote that together. He was in every step of the process. Fans can see through the BS if you don't believe in your character. It's what I said to Austin Theory, 'Dude, you are young, you are athletic, you will work for this company, you'll do interviews, you'll go X, Y, and Z, I don't believe what you do when you're out there, I don't.
Prior to this, Cena went through everything with Theory privately. What he said on-air reflected a real conversation, which factored into their WrestleMania story:-
I said it to him personally before I said it publicly. In a room with Austin Theory, I said the reason I came back to Boston is because you can't do this yourself yet. You cannot carry a WrestleMania promo yourself yet and if you fail, we waste the equity that I'm willing to give. And if in that match I get hurt, I hold up a production, which puts 300 people out of work. Let's do this right, let's get some equity here and then you have to start thinking about the angles and what's the most important thing and what are we really trying to tell, what's our story. Okay, I don't believe what you do, that's what I'm going with.
Theory's victory over Cena was the sixth successful defence in a United States Championship run spanning 178 days, with Sheamus, Edge, and Bobby Lashley amongst the 25-year-old's other notable scalps.