John Cena Says This Unlikely WWE Success Story Deserves Praise
WWE legend John Cena says it took "three and a half years" for this act to click with fans.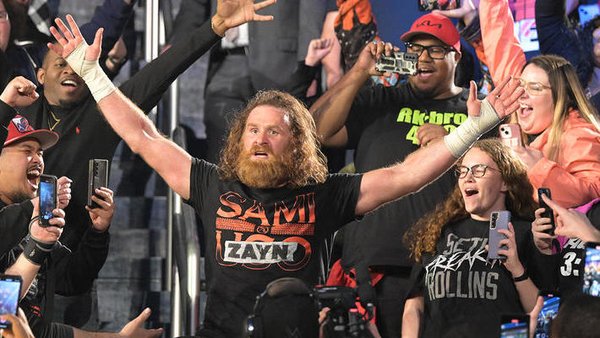 John Cena is impressed by how Sami Zayn captured the collective imaginations of WWE fans during a "three and a half year" spell of reinvention.
The comeback king, who wrestles Austin Theory for the United States Title at WrestleMania 39, told 'Whiskey Talk' that Sami deserves a lot of praise for sticking to the task and always trying to come up with fresh ideas even when it looked like his main roster career wouldn't take off.
Cena called Sami's change from independent darling making moves on NXT to bonafide WWE main roster headliner "a major reconstruction". He's been backstage around Zayn, and knows "how hard he works". That has always impressed John, but he's even more dazzled by what Sami is doing in 2023.
This, to Cena, is Zayn's "comeuppance" for a ton of hard graft and refusing to throw the towel in even when things looked rather bleak. Now, he's connecting with the core audience and getting some of the biggest reactions on shows.
Sami teams with on/off partner Kevin Owens vs. The Usos in an Undisputed Tag-Team Title bout at WrestleMania 39.