John Cena Vs Seth Rollins Made Steel Cage Main Event At MSG Special
Cena and Rollins will main event inside a cage at October 3rd special.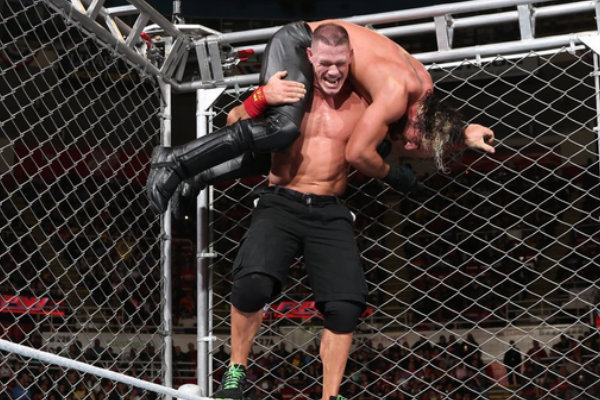 The main event for the October 3rd WWE Network special will be John Cena versus Seth Rollins inside a steel cage. The US Title will be on the line. The show is being sold as 'WWE Live From Madison Square Garden Featuring Brock Lesnar', but the main event will be the Cena Rollins cage match. Lesnar will be facing Big Show in the earlier part of the card, in a match he is expected to win quickly. The Cena Rollins US Title match was known, but the steel cage addition has just been made. It gives the match an extra edge, but it seems likely that Cena will be retaining. It makes sense to put it on as the main event, as the bout will go significantly longer than the Brock match. Still, Lesnar is going to be the key draw, for both the live gate and the Network subscriptions. Indeed, it is the first stop on what WWE are marketing as the Brock Lesnar Go To Hell Tour. The updated card in full is currently - Steel Cage Match for the WWE United States Title Seth Rollins vs. John Cena WWE Tag Team Title Match The Dudley Boyz vs. The New Day Brock Lesnar vs. Big Show Chris Jericho vs. WWE Intercontinental Champion Kevin Owens Randy Orton vs. Sheamus Dolph Ziggler vs. Rusev There'll also be appearances from Mark Henry, Stardust, and Team Bella. It should be a fun night, but is basically an enhanced house show. It isn't going to be like a traditional pay per view special. Nevertheless, Madison Square Garden is considered WWE's home ground and has a lot of meaning for Vince McMahon. Fans should expect an extra effort from the wrestlers.