Jon Moxley Beats Matt Cardona To Become GCW Champion
Mox is the NEW GCW Champion... and on a collision course with Nick F'n Gage.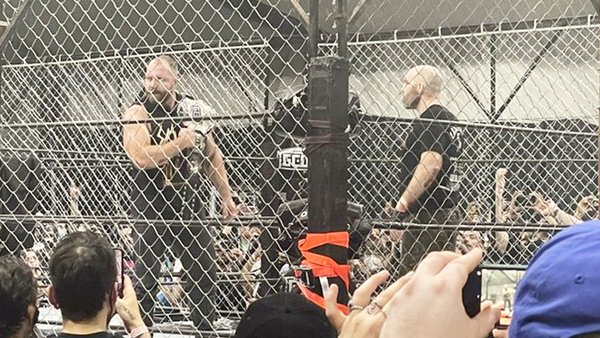 Last night's GCW Art of War Games event is now in the books... and Jon Moxley is the new GCW World Champion.
After Matt Cardona had laid down an open challenge, Frank the Clown was revealed as his opponent. A belt shot from the former Zack Ryder led to the quick victory, and the GCW Champ was then confronted by G-Raver and a group of druids.
With one solitary druid left in the ring, said druid hit a Paradigm Shift on Cardona and revealed himself to be Jon Moxley. From there, Mox hit another Paradigm Shift onto some light tubes, before pinning Cardona and becoming the new GCW World Champion.
There was still more to come from GCW, though, as Mox was then confronted by Nick Gage - with Gage announcing that the pair will square off for Moxley's GCW World Title at the company's 9 October show out of Atlantic City, New Jersey.
Elsewhere on the Art of War Games card, Billie Starkz defeated Janai Kai, Tony Deppen bested Allie Katch, Ninja Mack won the seven-person PBR Ladder Scramble F**kfest, and Gage and his MDK Gang beat 44OH! in the Art of War Games.
.@JonMoxley IS HERE!!!#GCWWarGames

Order the bundle on #FITE AND SAVE: https://t.co/yVtKMmblfl pic.twitter.com/dtHt9ideK5

— FITE (@FiteTV) September 5, 2021
#ANDNEW!! @JonMoxley #GCWWarGames

Order the bundle on #FITE AND SAVE: https://t.co/yVtKMmblfl pic.twitter.com/ObKqQw6hgw

— FITE (@FiteTV) September 5, 2021
The king @thekingnickgage is here and he wants his title back!#GCWWarGames

Order the bundle on #FITE AND SAVE: https://t.co/yVtKMmblfl pic.twitter.com/HXU3QVao7T

— FITE (@FiteTV) September 5, 2021
Create Content and Get Paid
---