Kenny Omega Brutally Buries Jim Cornette & "Extremely Pathetic" Followers
Cornette has backed himself into a corner and is now effectively working a gimmick, saws Omega.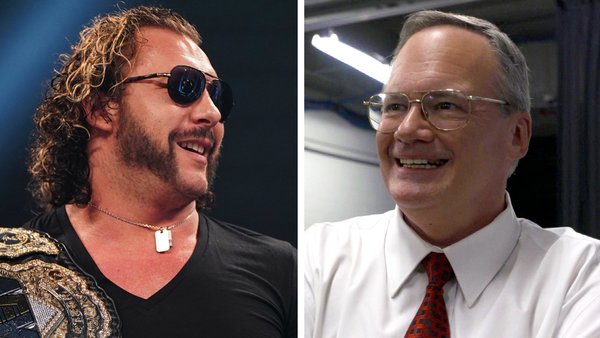 Kenny Omega ripped into frequent critic Jim Cornette during his appearance on a CEO Gaming Twitch stream last week, claiming that the controversial pundit has cultivated a group of "extremely pathetic human beings" with his fiery media persona.
The former AEW Champion said that in becoming such a vociferous detractor of many aspects of modern wrestling, Cornette has, in his opinion, backed himself into a corner. He has built a group of individuals who will hang off his every word, acting as if he is working a gimmick through his various podcasts.
Said Kenny of Jim (h/t Wrestling Inc.):-
"I think Jim Cornette has backed himself up into a corner where, now, he's found this group of extremely pathetic human beings who have no other thing to aspire to become, or no one to base their life off of, no one to listen to, no one to adhere to their commands. And so, when it became a character that he could play as though he was still traveling up and down the strip in the indies, like back in the old days, now he's got this group of people hanging off his every word. And all he has to do is sit and talk on a podcast with some other guy."
Cornette has been one of the most notable critics of Kenny's home base, All Elite Wrestling, since the promotion's 2019 formation, though his often over-the-top "critiques" of Omega and his peers go back long before Tony Khan's company came together. His diatribes regularly veer into the hysterical (lest we forget his comparing of Omega and Kota Ibushi to Adolf Hitler in 2017). Unfortunately, this sensationalism is a part of what draws his self-professed "cult" of followers towards him.
Omega, who doesn't often respond to Cornette's near-weekly rants against him, stated that as soon as the legendary manager and commentator realised he could make money through this media personality, he got himself stuck:-
"When he realized he could make money by delivering hateful speech, he backed himself into a corner, and now, if he wants to make rent, if he wants to buy his fancy McDonald's double cheeseburger meal, he has to talk about the things that are going to get attention and a lot of the time, that's going to be yours truly."
Beyond what is effectively a shock jock media persona, Cornette is a renowned wrestling historian and an acclaimed talking head on such documentaries on Dark Side of the Ring. It's regrettable that this is so often undermined by his sensationalist diatribes on modern wrestling in general.
Create Content and Get Paid
---