Kenny Omega Vs. El Hijo Del Vikingo Is Cancelled
AAA fans will have to wait a while for the long-teased Mega Championship match...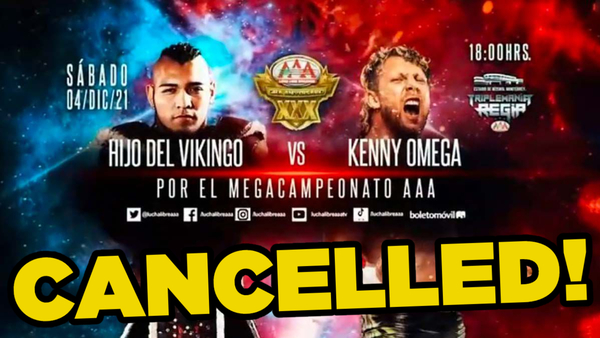 In news that won't come as a surprise to anybody who has been keeping up with Kenny Omega's injury status, the AEW star's long-teased AAA Mega Championship match with El Hijo del Vikingo is off.
The duo were set to wrestle for Omega's belt at Triplemania Reiga II on 4 December. Dave Meltzer confirmed the match's cancellation in the latest edition of the Wrestling Observer Newsletter, stating that while AAA has an idea for a plan B, it hasn't yet been finalised.
Excitement for Omega vs. Vikingo, who is considered amongst the world's most exciting high-flyers, went into overdrive after Triplemania XXVIII in December 2020, where Vikingo seconded Laredo Kid in a Mega Championship match with Kenny. For now, Vikingo, like anyone else with their eye on wrestling The Best Bout Machine, must wait.
Omega is currently on the verge of undergoing multiple surgeries to ease the plethora of health issues he has been working through, including shoulder and neck problems - as well as an abdominal hernia.
There is currently no exact word on when Kenny will be back in action. Meltzer writes in the WON that February 2022 had been targeted, though AEW founder and president Tony Khan has told his former World Champion to take as long as he needs.