Kevin Owens Unhappy With His Universal Title Run & Matches With AJ Styles
Did WWE drop the ball with KO?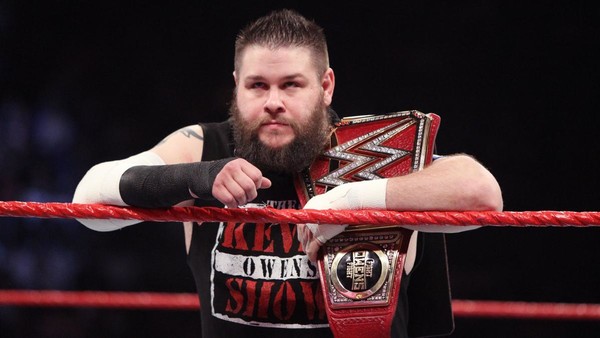 When Kevin Owens made his unlikely WWE debut he seemed poised for big things. And while he's managed to capture most of the company's top titles, he's never truly broken through the glass ceiling to be viewed as one of the core elite talents.
His reign as Universal champion should have been the factor that changed all that but unfortunately, even Owens himself feels the entire six-month run with the belt ended up being a disappointment.
On the latest edition of Edge & Christian's Podcast of Awesomeness, Owens opened up regarding his displeasure with his tenure as Universal champ.
"I thought that was it, like, alright, I'm the Universal champion. So clearly, this was just gonna solidify me as the top guy that I've always wanted to be, but I don't think it really did. It didn't turn out to be what I was hoping - like it didn't turn out to be this thing that would make me a top guy like I felt like it would..."
The man who was 1/2 of arguably the most entertaining WWE angle in years - his friendship-turned-rivalry with Chris Jericho - was not only down on his time as champion, but also his move to SmackDown and subsequent clash with AJ Styles. What most hardcore and even casual fans alike perceived as a series of dream matches turned out underwhelming;
"You know, you [Edge] said you enjoyed the series of matches with AJ, and I'm glad you did and I'm hopeful a lot of people did as well, but I don't know if I did. I don't know if I can say that I did, to be honest.
KO quickly recognized that his involvement with Shane and Vince McMahon has helped him be viewed in a different light and may finally be the true main event push he's needed since joining the main roster:
"I don't know if I was putting out my best stuff at the time and then, you know, once that ended and I transitioned into the thing with Shane, I did feel like 'oh man, working with Shane is a big deal'. And Vince, throwing himself into the mix, I knew - that's as big as it gets. Not that many people get to do that with Vince, especially nowadays. If you look in the last 5 - 6 years there hasn't been that many people who got to, you know, physically assault in the way that I did. So obviously I knew that was a big deal and I did think maybe this is what I've been waiting for and so far it feels like that was it. I feel like things have been taken to a new level for me since that happened and I'm gonna try to run with it as good as I can."
In the last few weeks we've seen Kevin Owens getting the rub from both McMahon men as well as a shocking reunion with his former arch-rival Sami Zayn. Maybe this is finally KO's time to ascend to the top rung of the WWE ladder.
Create Content and Get Paid
---