Kofi Kingston Finally Botched His WWE Royal Rumble Escape Spot Last Night
The Royal Rumble escape artist fell short in St. Louis, though WWE could've helped him out...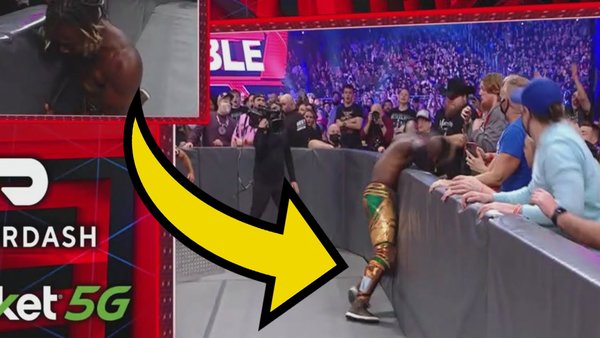 Misfortune befell Kofi Kingston last night, as the Royal Rumble escape artist fell short in his latest attempt at preventing his own elimination.
Kofi entered the men's Royal Rumble at number 24. Barely had he made his ring entrance before Kevin Owens had launched him towards the barricade, with The New Day man giving himself extra spring to make the spot more eye-catching. An attempt at landing on the barricade without both feet touching the floor proved too tricky to pull off, however: Kingston's sneakers were shown hitting the deck before he pulled them back up.
Watching live, it was hard to shake the impression that this was unintended. An air of uncertainty surrounded the incident and its various replays before eventually, Kofi was eliminated, having lasted just 21 seconds.
Kingston has since referenced the incident on Twitter:-
Welp! ?

"It is Better to Try and Fail Than Never to Try at All."-someone said this

— ?? Sir Kofi Krampus ?? (@TrueKofi) January 30, 2022
It was a shame to see Kofi go through this. His annual escape spots are always a highlight, with the former WWE Champion pulling off all manner of elaborate stunts to stay in the Rumble match over the years. This time, a very, very difficult set-piece didn't pay off for him
WWE could likely have avoided this by filming Kingston higher up. Had they not been focused on the floor at the point of impact, only the front few rows of people would've noticed Kofi's feet hitting the deck before he pulled them back up. Yes, it would have made it to the internet regardless, but at least Kofi could have kept rolling in the Rumble.
Alas, it wasn't to be.