Konosuke Takeshita Heading To WWE?
Having wowed in AEW, the DDT man is "exactly" what WWE is looking for.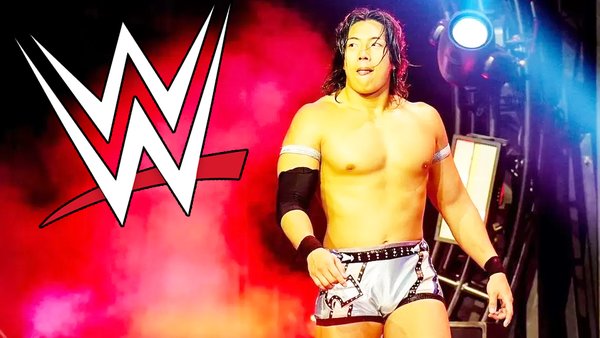 With his time in AEW seemingly soon coming to an end, could Konosuke Takeshita end up in WWE?
Speaking on Wrestling Observer Radio earlier today, Dave Meltzer stated WWE is currently on the hunt for a major Japanese star and that Takeshita is "exactly" the sort of talent the promotion is looking for.
While discussing how long the DDT standout's venture to the US was intended to last, Meltzer said:
"A year or so. Enough time to make him something. He's living here, but even if he goes back, they [AEW] can bring him in any time they want. It's not like he'll be here for a year and then they can never use him again. So, the fact that they don't have him under a five-year deal or anything like that, shouldn't be incumbent [to how AEW use him]. I don't know what his deal is with DDT."
Throwing WWE into the mix, Dave continued:
"If he doesn't have a full-time deal somewhere, WWE is looking for a big Japanese guy as we speak, and this guy's got some size and he's young and he's got a good body and he's a fantastic wrestler. So, somebody there [WWE] may stumble upon him and be interested, because he's exactly what they're looking for."
As alluded to by Meltzer, it's not known what Takeshita's contract status is with DDT or exactly what plans lie ahead for him in AEW in the immediate future.
The 27-year-old revealed last month that he'll be returning to Japan for DDT Wrestle Peter Pan 2022 on 20 August. There, Takeshita will be teaming with 37Kamiina cohort Mao and Yasu Urano to take on Dick Togo and Damnation T.A.'s Daisuke Sasaki and Kanon.
While it's not been outright confirmed that Konosuke's time in the United States is done for the foreseeable, his tweet about the aforementioned DDT show included a line about how he doesn't have much time left in the US.
In addition to Takeshita's contract status, it remains to be seen whether there is concrete WWE interest in the star. Of course, one has to think that simply watching the fella's match against Claudio Castagnoli at AEW Battle of the Belts III over the weekend would be enough to win over anyone...