Kurt Angle Says Triple H Made WWE Star "Look Like A Complete As*hole"
WWE icon Kurt Angle HATED this pay-per-view finish involving Triple H.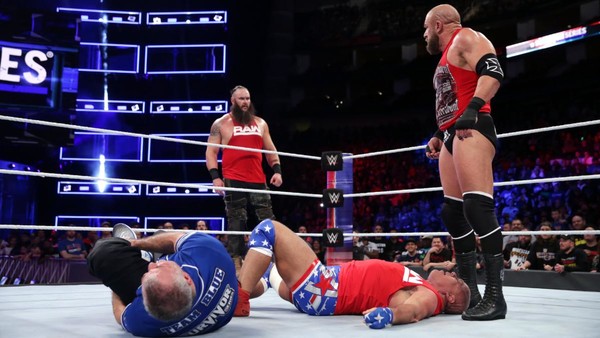 Did Triple H make Braun Strowman "look like a complete as*hole" back at WWE's Survivor Series 2017 pay-per-view? Kurt Angle thinks so. The legend has revealed, via his podcast, that he really disliked the finish to the traditional men's Survivor Series elimination bout that year.
Trips smashed 'Team Raw' partner Angle with a Pedigree and watched Shane McMahon pin him. Then, 'The Game' beat Shane-O to bag a win for his side as Braun watched on slack-jawed from the ring apron. Post-match, Strowman fired up on Hunter and blasted him with a running powerslam.
Kurt thought that finish flat out sucked.
The WWE Hall Of Famer thought Braun was left to "hang there high and dry" as Triple H considered throwing the bout so Angle would be fired as Raw GM. He reckons creative could've come up with something better to protect Strowman and make him look like less of an afterthought.
Kurt was also rather disappointed in the match generally - he thought it was decent, but that was all. He'd hoped the talent involved would produce a classic, but the finish (in particular) knackered proceedings.