Kurt Angle Tells The "Uncomfortable" Truth Of Kissing Stephanie McMahon
"[Vince McMahon] had this look like, I want to see this," said Kurt Angle.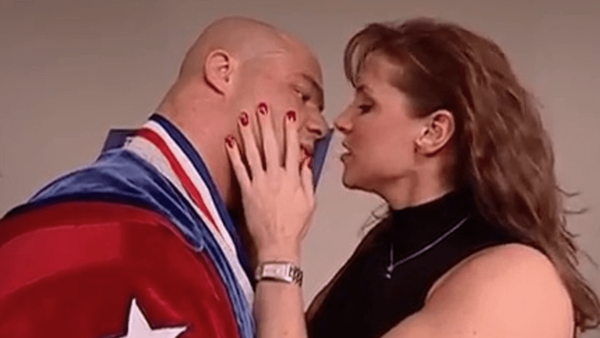 Kurt Angle has told the "very uncomfortable" truth of his 2000 love triangle storyline with real-life couple Stephanie McMahon and Triple H - and the infamous SmackDown angle that saw him and Stephanie share a kiss under the watchful eye of her father, Vince.
Speaking on The Kurt Angle Show for AdFreeShows.com, the Olympian dived into the "weird" situation. Vince was directing the scene from behind the camera. Stood only a couple of feet away from Stephanie and Angle, the now-deposed WWE Chairman and CEO was "looking right at the duo", wearing a look suggesting the segment was something he wanted to see.
Said Kurt (h/t WrestlingNews.co):-
"It was weird. It was very uncomfortable. Vince, not only was he directing, he was literally two feet away from us. The camera was right here, Stephanie and I are here, and Vince is right behind the camera looking at us. I'm not saying he felt like he looked like he was aroused, but he had this look like, I want to see this."
Continuing, Angle revealed his understandable nervousness while filming the scene:-
"So I kissed Stephanie, and I do it like this because I'm nervous as hell. I look like a duck, fish lips. Stephanie afterward said, 'You kiss like a fish.' I said, 'What the hell do you want me to do? Do you want me to slip you the tongue while your dad's watching? Plus you're married to Triple H.'"
Kurt ended up losing the feud, eating a defeat to Triple H and Unforgiven 2000. This didn't stop him from becoming WWE Champion soon after, however, as he defeated The Rock via Rikishi interference to win the company's top strap at No Mercy 2000 the following month.
Create Content and Get Paid
---