LA Fights: Meet The British Wrestler Attempting To Revolutionize The Industry
Nigel McGuinness on his latest journey in wrestling.
In September 1999, an American television news broadcast featured a human interest story on Nigel McGuinness, one of many young athletes attempting to make a name for themselves on the burgeoning scene of independent pro wrestling. McGuinness had left his native England for the United States, spurred on by his childhood dream of becoming a pro wrestler. His final goal was the then-WWF €" but the bingo halls he was wrestling in during his early days in the ring were a far cry from the pomp and ceremony of the big leagues. Ten years later, much had changed for all the involved parties. McGuinness had gone on to be part of a talented generation of independent wrestlers who forged an industry of their own. Ring of Honor was the focal point of this movement, the jewel in the crown of independent wrestling in America. The Philadelphia-based promotion was a proving ground for future stars like CM Punk, Daniel Bryan and Seth Rollins; three men who would hold its world title before heading on to WWE. That was the path intended for Nigel McGuinness €" but that wasn't how things played out. In September 2009, Ring of Honor announced that McGuinness had agreed to a WWE contract 'in principle', and would be leaving the promotion to join the company. However, just a month later that deal had fallen through and McGuinness signed with WWE's distant rival, TNA. The punnily named Total Nonstop Action occupied the awkward middle-ground of the wrestling business, having none of WWE's mainstream acceptance and the associated benefits, but also missing out on the grassroots support and appreciation that independent promotions like Ring of Honor enjoy. McGuinness was being forced to settle for second best €" but, when presented with lemons, sugar and water, he made lemonade. He was introduced via a well-received series of matches with WWE émigré Kurt Angle, but things would soon turn even more sour. Several months later, McGuinness tested positive for Hepatitis B, a huge issue in a company that regularly used intention bloodletting to heighten the drama of its in-ring competition. Nigel was hastily removed from the active roster, and was released from his contract not long afterwards.
Above: Nigel prepares to face Daniel Bryan in Ring of Honor.
McGuinness was discouraged but not defeated; he returned to Ring of Honor as a commentator, and announced plans to end his in-ring career. However, having been cleared to wrestle again, he was going to do it the right way; he was going to set out on a retirement tour that would take him to some of the regions he'd performed in during the years prior. What's more, he was going to make a documentary chronicling his travels, as well as giving his fans the final word on his tumultuous dealings with WWE and TNA €" the details of which had never been made public. Taking to Kickstarter for support, McGuinness received almost $50,000 in donations to make the project a reality. The finished film was shown around the world, receiving high praise that stretched far beyond the niche of the pro wrestling industry. Shooting, editing and promoting 'The Last of McGuinness' himself, Nigel discovered a latent talent for filmmaking €" and began to wonder what he could do with a bit more scope and little bit more of a budget. That's the path that led Nigel to 'LA Fights', his concept for a modern spin on televised pro wrestling. Borrowing as much from hit television shows like Breaking Bad and Sons of Anarchy at traditional wrestling broadcasts, McGuinness is currently in the early stages of production for a six-episode season that could redefine the industry itself. "There is a huge gap in the market," he says when I ask him just how he plans to do that. "A place for a product that appeals to a wider demographic; people that stopped watching since the boom of the late 1990's, people that find the realism of MMA more appealing, people that enjoy more complex storylines €" or any mixture of the three." Nigel tells me about his plans for a character who is battling a drug addiction as well as his in-ring opposition. He tells me about a character who thinks he's on the verge of breaking through and becoming a star, but has a family who want nothing more than for him to settle down. These aren't the same old stories we've seen play out in the wrestling ring time and time again €" there's a kernel of truth to everything that Nigel is building.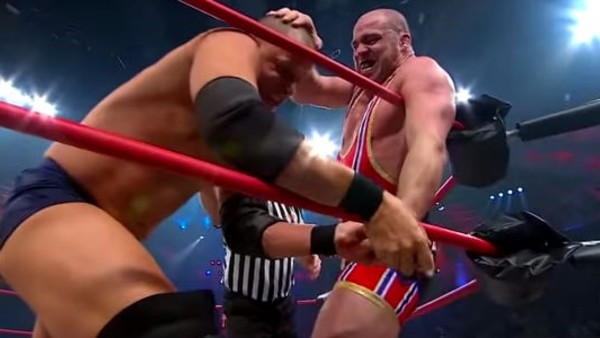 Above: Nigel takes on Kurt Angle in TNA.
"All you need to do is look behind the scenes in pro wrestling, watch the documentaries, listen to the guys and the conflicts they have struggled with," Nigel says. "These are some of the stories that I want to tell." At its root, pro wrestling is a morality play that masquerades as a sporting competition €" but that's typically something that's levelled as a criticism of the form. Nigel knows better, and as such he's placing that interplay between what's 'real' and what's 'fake' at the core of LA Fights. Characters and storylines might be as scripted as any other show on television €" but, as we've seen time after time, that doesn't matter much at all when they come from true human experience. Just as 1984 allowed Orwell to write about writing, and Sunset Boulevard was a parable of the movie industry that birthed it, LA Fights has the potential to be the first defining work in the pro wrestling canon. This isn't just another smaller sibling to WWE that's destined to be belly-up in a few years time: it might well turn out to be the biggest shift in the pro wrestling landscape since its inaugural television broadcast. For the first time, the question of "who's behind the mask?" isn't just permitted, it's encouraged €" whether that mask is a brightly-coloured lucha libre accessory or just the persona that a wrestler takes on before they step through the curtain. And, as we've witness in 1984 and Sunset Boulevard, self-reflexive critique can often yield great work. It might seem frivolous to compare the work of masters like Billy Wilder and George Orwell to a medium that some would discredit as 'fake fighting' €" but that's only because, as of yet, pro wrestling isn't seen as a mature form. It's a simple matter of the shock of the new; any medium has a teething period before its first great work announces its presence as a cultural touchstone to the mainstream. There was a time when movies were seen as little more than a sideshow €" and they would have remained that way if no one had set out to change the status quo. Even more recently we've seen the emergence of television shows that have redefined what audiences can expect from a TV series. It's no longer just evening entertainment shooting forth from the idiot-box; at its best, it's so much more than that. In a sense, LA Fights represents a deeply personal journey of redemption for a man who nearly reached the top of his chosen profession, only to be scuppered by opposing forces far outside his control. However €" as is always the case with pro wrestling €" there's something else playing out just under the surface. If it lives up to its lofty ambitions, this could be a part of the moment that pro wrestling fully transcends its low-brow reputation. For anyone who's ever found themselves glued to the guts and glory of a match as it plays out in the ring, LA Fights €" and, indeed, Nigel McGuinness €" is a cause well worth supporting. "If funded, it will be without doubt the culmination of my life's work, and the biggest contribution I can give to the industry that I spent my life pursuing and learning," Nigel tells me. "But none of it €" not even a second €" will be possible if it is not funded."
Above: Nigel imitates the Ultimate Warrior as a child in a shot from 'The Last of McGuinness'.
You can back Nigel's project by visiting the LA Fights campaign page on Kickstarter.
Create Content and Get Paid
---