Lacey Evans Calls WWE Legend Ric Flair "Daddy"
Ric Flair ditches Charlotte for Lacey Evans on WWE Raw - things are already getting weird.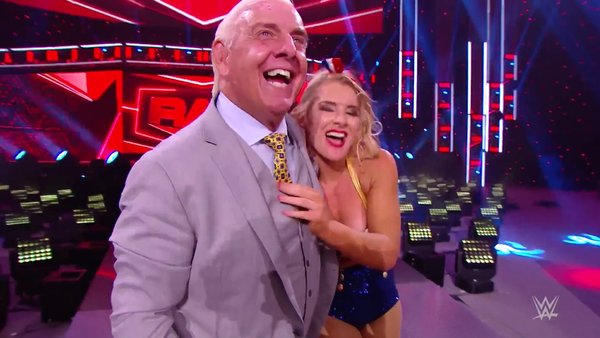 Lacey Evans has started calling Raw turncoat Ric Flair "Daddy".
After the legend turned on his daughter Charlotte to help Lacey score a win, Evans posted her thanks on Twitter and asked what was better: "The win, the money, the suite or p*ssing off The Queen".
She then posted a rather haunting, "Thank you daddy" comment and tagged 'Slick Ric'.
So, Evans is playing the grateful, doting 'daughter figure' that Charlotte has outgrown since stepping out of her father's shadow. At least, that seems to be the story WWE are going for, but they might want to tread carefully with this whole "daddy" business.
Nobody needs to see Ric turn into 2021's version of Hugh Hefner. He did enough of that back in the 80s!
Seriously though, this has the potential to get very, very weird. Evans' character has already been flirting heavily with the 'Nature Boy', blowing kisses his way and dedicating matches to him. The next step in this cinematic-obsessed, mid-pandemic world is totally Ric taking Lacey out on a date, isn't it?
This could already take home the prize for 2021's weirdest booking decision.
Create Content and Get Paid
---